Assad promised to supply Lebanon with Electricity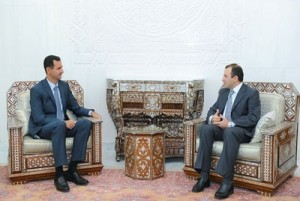 President Bashar al-Assad on Monday reviewed with Lebanese Minister of Energy and Water Gebran Bassil the situation in the Lebanese arena and the development of the Syrian-Lebanese relations, according to the government owned Syrian Arab News Agency
Bassil had reportedly hailed Syria's exerted efforts to maintain security and stability in Lebanon.
Assad has reportedly promised Bassil to provide Lebanon with the much-needed electricity, al-Bairaq newspaper said Tuesday, citing well-informed sources in Damascus.
An-Nahar newspaper , for its part, said Bassil has likely briefed Assad on the mood of the Free Patriotic Movement following the arrest of FPM senior official Brig. Gen. Fayez Karam on charges of spying for Israel. Bassil is the son-in-law of FPM leader
Assad met Bassil at al-Shaab Palace in Damascus, SANA said.
Al-Bairaq said Assad stressed to Basssil his commitment to the calm and stability in Lebanon in line with the outcome of the tripartite summit which took place at Baabda Palace between Assad, Lebanese President Michel Suleiman and Saudi King Abdullah.
In May 2001, Syria signed a deal with Lebanon to build a 26-mile pipeline that would supply power stations in Lebanon with natural gas from Syria. While implementation of the deal was delayed until late 2003 the pipeline was reportedly completed months after the assassination of Lebanon's former PM Rafik Hariri in 2005 .The Zahrani power plant in Lebanon, was converted to burn natural gas, but unfortunately Syria reneged on the deal following its ouster from Lebanon