Franjiyeh, unlike Aoun will not criticize the president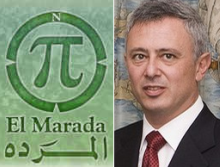 Marada Movement leader MP Suleiman Franjieh on Monday told reporters after meeting Maronite Patriarch Nasrallah Sfeir that he will not criticize Lebanese President Michel Suleiman.
"Aoun, however, has his own reasons for criticizing him (Suleiman)," Franjieh said
Franjieh described the meeting with Sfeir as the "beginning of a new political road with Bkirki," adding that "we need ears to listen to us."
"Each one of us has his own views with regards to Lebanon's independence and sovereignty," Franjieh said from Diman, the patriarch's summer residence.
Franjieh said talks with Sfeir focused on inter-Christian reconciliation.
Franjieh arrived at the lunch meeting in Diman, north Lebanon, at midday.
Sfeir sent the invitation to Franjieh through Bishop Samir Mazloum. Franjieh accepted it.
Relations between Sfeir and Franjieh have been tense after the Marada leader accused the patriarch of bias and of favoring one Christian group against another.
Franjiyeh's comment about president Suleiman comes after Free Patriotic Movement leader MP Michel Aoun attacked the president, the prime minister and the government in a televised speech on Sunday September 5 and called for resignations of several ministers.
Aoun also said that the Internal Security Forces (ISF) Information Branch is an "illegitimate branch ", "kidnaps people for months," and "spreads rumors about people."
His criticism was assumed to be in reference to the branch's August 5 arrest of retired Brigadier General Fayez Karam on charges of spying for Israel.
Karam who is also a senior FPM official, was charged with espionage and providing the Jewish state with information on Hezbollah, Aoun's closest ally.