Hariri: Stability in Beirut is a sign that Lebanon is strong, coherent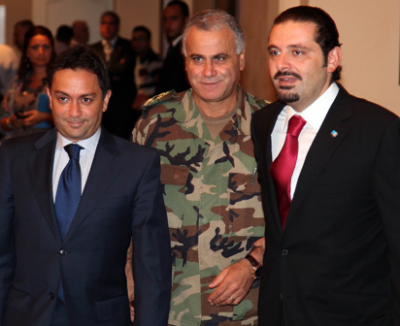 Lebanon Prime Minister Saad Hariri said the state should confront the spread of arms throughout Lebanese territories wondering whether the country could afford the presence of a big quantity of weapons in the hands of armed groups and individuals.
"Can we afford all this amount of weapons in Lebanon? Addressing this issue would be by recognizing the presence of weapons spread all over Lebanon, confronting this fundamental problem, dealing with it and finding pragmatic solutions," Hariri said during an Iftar he hosted in Qoreitem in honor of Beirut families.
Army chief Gen. Jean Kahwaji was also invited.
While admitting "there was a gap" in the authorities' reaction to the Borj Abi Haidar clashes last week, Hariri said: "The army reinforced its forces by around 1500 soldiers in Beirut, and the Internal Security Forces also enhanced its forces with six additional divisions."
His remarks come after a bloody street battle that shook the Borj Abi Haidar neighborhood in the Lebanese capital on August 24, pitting supporters of the Iranian backed Hezbollah against the pro-Syrian Al-Ahbash militants —also known as the Association of Islamic Charitable Projects. 3 people were killed in the clash including a Hezbollah senior official.
"Stability in the capital is a sign to the whole world that our country is strong and coherent, and our national unity is solid and durable,"Hariri said adding that providing more military equipment to military forces will improve the situation.
President Michel Suleiman and Defense Minister Elias al-Murr began efforts to procure new aid for the Lebanese Armed Forces (LAF), including a donation fund for additional equipment and the involvement of friendly countries.
"The only way to face all kinds of external threats and intimidations is through internal strength," he added.
Hariri called on the parliament to approve the 2010 state budget in order to start implementing the plan to solve the electricity issue, a possible reference to Energy Minister Gebran Bassil's plan to develop the energy sector, which was approved by the cabinet on June 22.
Before the Iftar, Hariri discussed the security situation in the country with Kahwaji.