March 14: Bellemare's stance spells failure for intimidation campaigns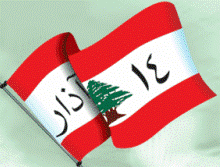 The March 14 General Directorate praised on Wednesday Special Tribunal for Lebanon Prosecutor Daniel Bellemare for his "strong professionalism" in the investigation in the assassination of former Prime Minister Rafik Hariri.
It said in a statement after its weekly meeting: "His latest stands are "an indication of the failure of intimidation campaigns that are aimed at targeting the STL and its credibility, and the impossibility of influencing the independent investigation."
Bellemare reacted to the recent rumors about the indictment by saying : People should remember this: "Unless they can read into my brain, everything else is just speculation." Bellemare said he has not yet drafted the indictment "
This comes after Hezbollah and its allies launched a well organized campaign against STL and its prosecutor . Hezbollah leader Sayyed Hassan Nasrallah said in a speech last August that the indictement of Hezbollah in the murder of Lebanon's former PM Rafik Hariri was written in 2008.
The pro-Syrian As Safir newspaper claimed last July that STL is expected to announce its first indictment of Hezbollah in September . Last month As Safir claimed that the STL decisions lie in the hands of the U.S..based on As Safir report , MP Walid Jumblatt joined the list of critics last month and repeated what the daily reported when he said "Washington is behind a decision to be issued by the Special Tribunal for Lebanon convicting people in the murder of former PM Rafik Hariri ".
Hezbollah – Al Ahbash clashes
March 14 General Directorate condemned the recent clashes at Borj Abi Haidar, saying that March 14 has already demanded that Beirut should be an arms-free city , which "would represent the first step in making the whole of Lebanon free of illegitimate weapons."
"Laying down of illegitimate arms has become a popular, political, and economic demand," the general directorate said in a statement after its weekly meeting.
Polish tourists
March 14 General Directorate also condemned Tuesday's kidnapping of the two Polish tourists in the Baalbeck-Hermel region, saying it was a dangerous sign of some groups' terrorist tendencies against Lebanese and foreigners.
It was also a sign of the presence of disruptors of the peace throughout Lebanon that are aimed at targeting the authority and credibility of the Lebanese state.