Hezbollah chief: The clash with Al-Ahbash was 'unfortunate'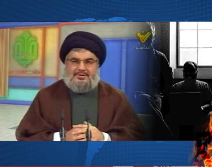 Hezbollah chief Sayyed Hassan Nasrallah reportedly described the clashes between his party and Al-Ahbash gunmen as "unfortunate" but said they showed there were "premeditated intentions."
Nasrallah's remarks came during an iftar banquet to families of martyrs on Monday, al-Akhbar daily said Tuesday.
This comes following the deadly clashes in the Beirut neighborhood of Borj Abi Haidar on Tuesday August 24 between supporters of the the pro-Syrian Association of Islamic Charitable Projects—also known as Al-Ahbash—and the Iranian backed Hezbollah militants , leading to the death of three people, including Hezbollah official Mohammad Fawwaz.
Both Al-Ahbash and Hezbollah enjoy close relations with the Syrian regime.
Nasrallah said that some parties seem to be waiting for an opportunity to attack the resistance and its arms, the al-Akhbar reported.