Berri rejects attempts to brand shiites as rebels against the state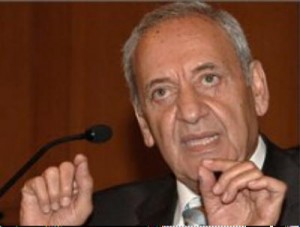 Lebanon Parliament Speaker Nabih Berri said on Tuesday during the 32nd anniversary of the disappearance of Imam Moussa Sadr that he rejects attempts to brand the Shiites as "rebels against the Lebanese regime and that their weapons are a threat to the State and other sects."
"We assure you that the project of state-building is a benefit and an article of faith for the Shiites," he added, voicing support for the cabinet to fulfill its duties to serve the social needs of the Lebanese people.
However, he said that "the Resistance is a Lebanese need and necessity."
His comments come after the clashes in the Beirut neighborhood of Borj Abi Haidar last on August 24 between supporters of the the pro-Syrian Association of Islamic Charitable Projects—also known as Al-Ahbash—and the Iranian backed Hezbollah militants , leading to the death of three people, including Hezbollah official Mohammad Fawwaz.
The clash , which was the worst since May 2008( when Hezbollah gunmen swept through Sunni neighborhoods of Beirut after a government crack down on the group's telecommunications network) outraged the majority of the Lebanese, and many called for arms free and militia free Beirut.
Al-Ahbash are Sunnis while Hezbollah is a Shiite group.
Turning to the issue of Imam Sadr , Berri said:
"Imam Sadr and his two companions are in Libya. Their case will remain open until their return."
He said Sadr's disappearance case "cannot be closed neither can we acquit the Libyan regime of responsibility, even if it gained international cover."
"Isn't it time for criminals to face the truth?," he shouted.
Berri called for a "total boycott" at every level of any Arab or international parliamentary or government meeting being held in Libya.
Still alive
Imam Moussa Sadr, who disappeared during a visit to Libya 32 years ago, was still alive and being held captive by Libyan leader Moammar Gadhafi, his son Sadreddine Sadr said Monday in an interview that was published Monday by National News Agency.