Sadr threatens to leave Iran and relocate to Lebanon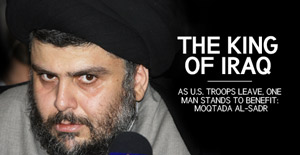 Moqtada al-Sadr, the king maker of Iraqi politics threatened the Iranian leaders that he will leave Iran and relocate to Lebanon if they continue to exert pressure on him to to join Nouri al-Maliki in a future Iraqi government coalition , according to al Sharq al Awsat sources.
Sadr who fled to Iran 3 years ago dislikes the Iraqi prime minister. He reportedly told the Iranian leaders that his opposition to a government formed by Maliki is a matter of principle.
Sadr bitterly split from Maliki when the latter allowed American troops to attack his militia members 3 years ago.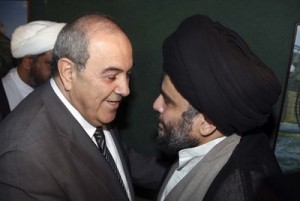 Former Iraqi premier Iyad Allawi said last week that his Sunni-backed Iraqiya alliance will intensify talks with Sadr to try to break a political stalemate.
Iraq has been in a political deadlock since a March 7 election which produced no outright winner, raising tensions ahead of an end to US combat operations this month and fueling concerns of a return to widespread violence.
Allawi and members of Sadr's political group announced last Tuesday (after Iraqiya broke off negotiations with incumbent Nuri al-Maliki's Shia-led State of Law alliance) that they will intensify their talks .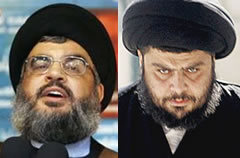 Sadr is clearly following the Hezbollah model, creating a populist political movement backed by a  well armed  militia. The language Sadr uses when discussing the U.S. presence in Iraq… resistance, occupation, martyrdom …could easily have been taken from a speech by Hezbollah's leader, Sayyed Hassan Nasrallah.