Protests over power cuts cause concern in Lebanon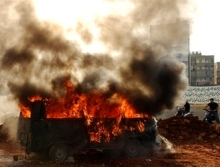 Unidentified individuals blocked roads with burning tires on Sunday evening in the Bachoura neighborhood – in Beirut's Bechara al-Khoury area – to protest power cuts in the region, the National News Agency (NNA) reported.
The Lebanese Armed Forces (LAF) intervened to re-open the roads and punish the perpetrators, the NNA added.
In recent weeks, residents in South, North Lebanon and Beirut have blocked roads with burning tires to protest electricity shortages.
Some political figures have recently stated that protests over electricity shortages are politically motivated and are acting as a reminder of 2006. Following the war with Israel Hezbollah and its allies occupied downtown Beirut with the aim of bringing down the government . Now too, many March 8 allies care calling for bringing down the government.
Al-Hayat quoted on Sunday some parliamentary and ministerial sources as expressing fear that riots might escalate, jeopardizing the stability that Lebanon has been witnessing since the country hosted a late-July summit attended by President Michel Suleiman, his Syrian counterpart Bashar Assad and Saudi Arabia's King Abdullah.
Transport Minister Ghazi Aridi said in Bint Jbeil on Sunday that civilized public expression is good, but "we all lose" when people block roads and attack public utilities to protest power cuts, the National News Agency (NNA) reported.
No magical solution
Energy Minister Gebran Bassil , an FPM member was quoted as saying " those that are not paying for electricity are the ones who are protesting the most." This was understood to read Hezbollah and Amal.
MP Alain Aoun also a member of the Free Patriotic Movement told the Voice of Lebanon (VOL) on Monday that power-cut problems in Lebanon cannot "magically" be resolved.
Aoun also said that "there is a procedure" to resolve such problems.