Hariri Meets Jumblatt and Hezbollah Official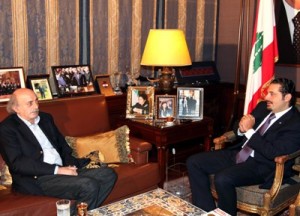 Lebanon PM Saad Hariri met separately last night with Progressive Socialist Party leader MP Walid Jumblatt and Hezbollah Official Hajj Hussein Khalil.
They discussed the situation in Lebanon and regional development according to local reports
Jumblatt described his meeting at Qoreitem Palace as "excellent" , during an interview with As Safir newspaper
Local reports said the Hariri-Khalil talks addressed a number of issues as well as internal and external developments.
Hariri's meeting with Jumblatt, focused on the Syrian-Saudi summit.
Saudi King Abdullah bin Abdel Aziz and Syrian President Bashar al-Assad visited Beirut earlier this month in a bid to calm the political situation.
"Hariri is aware of the significance of going along with the Syrian-Saudi rapprochement which is aimed at calming the Lebanon waters," Jumblatt told An-Nahar newspaper in an interview published on Monday.
He said Hariri is also aware of the importance of promoting dialogue with all parties in Lebanon.
Public Works and Transportation Minister Ghazi Aridi, who is also a member of the PSP, took part in the meeting as well, according to a statement issued by Hariri's office .
Tension escalated in Lebanon following reports that the Special Tribunal for Lebanon (STL) will soon issue its indictment in the 2005 assassination of former Prime Minister Rafik Hariri. Hezbollah Secretary General Sayyed Hassan Nasrallah recently claimed his party members would be named in the tribunal's pending indictment.