Lebanon to auction gas exploration early 2012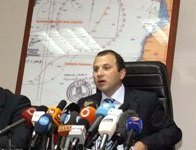 Energy and Water Minister Gebran Bassil on Thursday said Lebanon Lebanon is set to start outlining its maritime sea borders and and auction off rights for offshore gas exploration at the beginning of 2012.
"Now that the law on the exploration of offshore oil and gas reserves has been passed by parliament, we expect to begin the licensing process for the exploration of the reserve in 2012, barring political hurdles," Bassil said during a news conference, two days after the parliament ratified a long-awaited energy law.
On Tuesday, Lebanon's parliament ratified a law which called for defining the borders of the country's territorial waters, establishment of a treasury and a committee to oversee exploration and drilling offshore Lebanon .
Lebanese officials said now that the oil law is ratified, Lebanon will define its maritime border and send the relevant documents to the UN Security Council in order set out the requirements applying to natural resources, which Lebanon, claims that they belong to it and not Israel.
Lebanon and Israel remain technically in a state of war.
Speaker Nabih Berri, who was behind ratifying the energy law, accused Israel in June of stealing Lebanon's energy wealth.
"Israel is ignoring the fact that, according to the maps, this field is included within Lebanon's territorial waters," said Berri. "The best answer to Israel's threats is to rush to approve the oil law."
Bassil said Lebanon was close to an agreement on maritime borders with Cyprus.
According to Bassil, Lebanon will start approaching international energy companies to conduct seismic surveys and exploratory wells in the coming months, in order to find gas or oil.
Ali Hamdan, an advisor to Speaker Nabih Berri, on Tuesday told Agence France Presse he expected rights to be up for auction by the end of 2011.
"This is definitely a major cornerstone in Lebanon's oil policy … and will help Lebanon divide its reserves into blocks and eventually bring in tenders and start looking into power-sharing agreements," he added.
Norway-based Petroleum Geo-Services this year announced it had explored Lebanese waters which contained "valuable information" on potential offshore gas reserves.