Lebanon aid ship for Gaza heads Sunday to Cyprus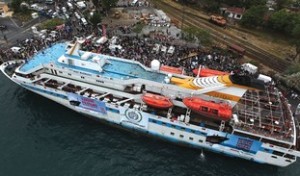 A Gaza-bound ship carrying women activists and aid for the blockaded Palestinian territory will leave Lebanon's northern port of Tripoli for Cyprus on Sunday, an organizer said on Thursday.
Israel has warned that it will not allow ships to reach Gaza, controlled by the militant Palestinian group Hamas since 2007. Nine pro-Palestinian Turks died on May 31 when Israeli commandos boarded a flotilla of aid vessels heading for Gaza.
Yasser Qashlaq said the ship Mariam would leave Tripoli at 10 pm (1900 GMT) on Sunday for Cyprus. A second ship, the Naji al-Ali, would sail a couple of days later, he told Reuters.
"The aim is to break the blockade on Gaza," Qashlaq said, adding that the Mariam would be carrying around 60 Lebanese, U.S. and European women, as well as cancer drugs. The Naji al-Ali will take medical equipment including dialysis machines.
"We will sail for Cyprus and from there we will head for Palestine," he said. "We have received permission from Lebanese authorities and we have not had any refusal from Cypriot authorities".
He did not say when the ship will leave Cyprus for Gaza.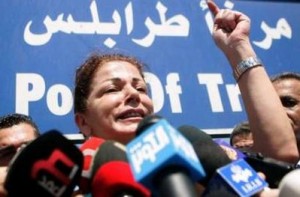 Israel, which eased its Gaza blockade in response to intense international criticism of its lethal seizure of the Turkish ship Mavi Marmara in May, has said it has the right to "use all necessary means" to bar the Lebanese ships from reaching Gaza.
Israel's ambassador to the United Nations said last month the vessels could "carry weapons or individuals with provocative and confrontational intentions", a charge Qashlaq denied.
"Any Israeli operation against the ships would be considered an act of piracy," he said. "I don't think the enemy (Israel) will repeat the stupid act that it carried out."
U.N. officials have urged countries not to attempt to break the Israeli naval blockade and urged all parties to show restraint.
Last month a Libyan-chartered aid ship bound for Gaza was diverted to an Egyptian port and its shipment was delivered to Gaza by land. Reuters