Lebanon is still talking about 2010 budget
The parliamentary Budget and Finance committee which is chaired by FPM MP Ibrahim Kanaan met at the parliament building at the Nejmeh Square in Beirut on Monday to follow up on the 2010 state budget proposal .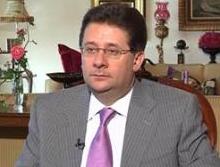 President Michel Suleiman signed draft 2010 state budget that was proposed by the cabinet and referred it to the parliament on July 10.
According to financial observers, normally this is the time of the year when the 2011 budget should be discussed but in Lebanon budgets are approved after all the spending is done.