Nazik Hariri: Truth will lead Lebanon to peace and security.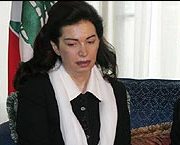 In a message on the occasion marking the beginning of the holy month of Ramadan, Nazik Hariri, widow of the slain former PM Rafik Hariri asked for God's help in speeding up the revelation of the truth behind the killers of husband and the other martyrs
She reminded everyone that the whole world ….the Lebanese , Arabs and the International community want justice and wants to know the truth .
Hariri stressed that the Lebanese people are wise and mature enough to deal with the truth which she said will lead Lebanon to the path of peace and security.