Nasrallah accuses Israel of killing Hariri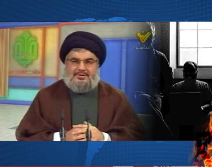 During a press conference on Monday Hezbollah leader Sayyed Hassan Nasrallah tried to present evidence to prove that Israel was behind the assassination of Lebanon's former PM Rafik Hariri .
Hariri was assassinated on February 14 , 2005 in downtown Beirut.
Syria was initially accused of being behind Hariri's murder , but a report in May 2009 in the German magazine Der Spiegel revealed that Hezbollah was behind the assassination of the the former Lebanese PM .
The Special Tribunal for Lebanon (STL) was formed by the United Nations security council to try the killers of the former Lebanese PM.
In his speech on Thursday July 22, Nasrallah admitted that some of his party members would be named in the tribunal's formal charges but stressed that he will reject the indictments . In an another speech on Friday July 16 he questioned the STL's credibility, calling it an "Israeli project" designed to create sectarian strife in the country.
During his last press conference, Nasrallah said he would provide evidence of Israel's involvement in Hariri's killing.
Many were questioning the reasons behind Nasrallah's delay in presenting his evidence in the case of Hariri's murder and wonder why he remained silent about the issue when all fingers were pointed at Syria. Many are also questioning why he did not present the evidence directly to STL and questioned his motives about presenting it directly to the media instead.
The evidence: Part I
Moughnieh
In September 1993 following the Oslo accord Hezbollah protested against it in Dhahiah. The protest during which 10 died was opposed by the government which was headed by Hariri . Following the protest Israeli agents told Hariri that Imad Moughnieh was planning to kill him.
After the September 1993 clash , Syrian intelligence ordered the arrest of Ali Dib, a Hezbollah official.
Days after his arrest, I went to Anjar and asked the Syrians why Dib was arrested. Former Syrian Interior Minister Ghazi Kanaan told me at the time that Rafik Hariri visited him and told him that there was a person close to Imad Mugniyah who took part in a meeting where Moughnieh and others were plotting to kill Hariri.
Dib was sent to Damascus where the investigation continued
In 1996, Hezbollah was tracking an Israeli spy, called Ahmad Nasrallah.
I went to meet Syrian official Ali Douba, after which I was told Nasrallah's claims were unfounded.
"After interrogating Ahmed Nasrallah and his confession of photographing houses of Hezbollah leaders, he also admitted that he had been blackmailing Hariri."
Ahmad Nasrallah lied to Rafik Hariri's security that Hezbollah wanted to kill him. He even told Hariri that Moughnieh was plotting to kill [Rafik Hariri's] sister, MP Bahia Hariri, after which [Hezbollah] would kill Rafik Hariri when he would show up at her funeral.
We handed over Hezbollah member Abu Hassan Salameh to the Syrians over Ahmed Nasrallah 's false claim that Salameh had been plotting to murder Hariri, but later on we found out that Salameh was innocent.
Ahmad Nasrallah told Hariri once that Hezbollah will kill him with a car bomb.
While Hezbollah chief was talking Al-Manar broadcasts a video about Ahmad Nasrallah, which says that: Ahmad Nasrallah was arrested in 1996 and released in 2000, after which he escaped to Israel through the southern border. His family later joined him. The Hezbollah video shows Ahmad Nasrallah confessing that his claims to Rafik Hariri that Hezbollah aimed to kill the former PM were lies
Part II
Let us now move to part II of the conference
We Accuse Israel of Killing [Rafik] Hariri.
Israel has the capacity to carry out an operation that targets Rafik Hariri.
Lebanon is the best place for Israel to carry out its operations, due to its geographical location, etc.
Israel has collaborators in Lebanon in all fields.
As for the motive; everyone knows that Israel's rivalry with Hezbollah is extremely fierce . Israel hence seeks the opportunity to act against Hezbollah .
Israel had no problem with Syria when it was in Lebanon. Israel has problems with Syria because it supports Hezbollah.
Syrian President Bashar al-Assad told me in 2004, before UN Security Council] Resolution 1559, was issued , that the US does not mind having Syrian forces in Lebanon, but on two conditions: They need to disarm Hezbollah and Palestinian factions in Lebanon.
Assad told the US that Hezbollah is part of Lebanon's national security, hence he denied the US' request .
– Then came the project to force Syria out of Lebanon and isolate Hezbollah.
The Rafik Hariri assassination was used against Syria and Hezbollah.
I will discuss Israel's methods of operation which will help us understand the evidence I will present.
First:Israel depends on aerial surveillance. Israel uses the MK [unmanned aerial vehicle] to spy on towns in Lebanon.
Second: I will discuss Israel's use of technical support, including the telecom sector.
Third: I will discuss Israel's use of spies.
Has Israel conducted intelligence operations in Lebanon since 2004?
When we answer this question, we will be able to understand the killings that were made.
We start with the Israeli collaborators, who were arrested between 2009 and 2010.
We start with the collaborators' confessions to the Lebanese security forces.
Let us take a sample of the collaborators, after which I will make some remarks.
The names of some of the collaborators who confessed to being spies include: Sader, who was born in 1964, started spying for Israel in 2006, and was arrested in 2010. His role was to gather information about the Lebanese Armed Forces (LAF) and political figures. He confessed to providing information on President Michel Suleiman, and his residence in Amchit. Sader also confessed to gathering information on LAF commander General Jean Kahwaji.
I have to say that field inspections and the gathering of information is a phase that precedes the implementation [of a certain operation].
Does a spy inspect a site only to gather information, or to also plot for a certain operation?
Sader confessed to inspecting Kahwaji's yacht. Could he have inspected the yacht because he wanted to put a bomb in it ?
Why did the International Independent Investigation Commission [commissioned by the UN to investigate Rafik Hariri's assassination] not question Sader or other collaborators to see if they were involved in other killings?
Syrian officials were questioned by the Special Tribunal for Lebanon (STL), but none of the Israeli officers handling Israeli collaborators in Lebanon were questioned.
Hezbollah's al manar shows another video on an alleged Israeli spy, which says that: Said Tanios Alam, who was arrested in 2009, started spying for Israel in 1990. He confessed to monitoring PM Saad Hariri and Lebanese Forces leader Samir Geagea as well as the movement of politicians in the Jbeil area.
Alam was asked to monitor Geagea. He was asked to determine when Saad Hariri visited Geagea. Why does Israel want to monitor Saad Hariri and Samir Geagea? This is the answer for the people asking "why were March 14 alliance members assassinated?"
Who goes to Jbeil coffee shops? Most politicians visiting Jbeil were from the March 14 alliance.
Hezbollah's al Manar shows another video on an alleged Israeli spy, which says that: Nasser Nader, who was arrested in 2009, confessed to being involved in the 2004 killing of Hezbollah official Ghaleb Awali.
When Awali was killed, Jund al-Sham issued a statement that it was behind the assassination.
Hezbollah's al Manar shows another video on an alleged Israeli spy, which says that: Faysal Maklad confessed to harboring Israeli troops in Lebanon and transporting weapons.
Hezbollah's al Manar shows another video on an alleged Israeli spy, which says that: Adib Alam confessed to monitoring Lebanese regions as well as being involved, along with his wife, in the killing of Islamic Jihad Movement officials Mahmoud and Nidal al-Majzoub in 2006 in Saida .
The secret I want to reveal tonight is that before 1997, Hezbollah was able to catch an Israeli spy plane photographing South Lebanon and sending them to an Israeli operations center.
Hezbollah managed to access Israel's spy maneuvers.
This was a technical achievement for Hezbollah.
We kept this to ourselves at first. The images we intercepted were difficult to analyze.
No one is capable of directly understanding these intercepted [images]. Our capacities did not allow us to intercept all the images taken by Israeli spy planes over Lebanon.
Israel later encrypted their [spy plane] operations, so sometimes we could not decipher what they photographed.
Hezbollah caught pictures of Israel taking pictures from the shore to a road that leads to the southern Lebanese town of Ansariya.
We identified the place that Israel was focusing on. We wondered if Israel wanted to conduct an operation at that location.
On September 5, 1997, Israel commandos landed on the beach and took the road to Ansariya that had been photographed by the Israelis , after which there was a clash.
We were not able to intercept the images of the Ansariya battle itself .
Hezbollah's al Manar shows another video of an Israeli Unmanned Aerial Vehicle's (UAV) footage: The video shows where Hezbollah planned an ambush against Israeli commandos. The video then shows an Israeli helicopter approaching to rescue the commandos. The video also shows Hezbollah rockets targeting the Israeli soldiers waiting for the helicopter's rescue.
The narrator of the video says: Until now it is uncertain if the commandos were going to plant a bomb to target a Hezbollah official or to kidnap a Hezbollah official. The intercepted UAV's footage proves that an assassination attempt was being planned.
Hezbollah's al Manar shows another video of more UAV footage: The video shows surveillance of Hezbollah official Ali Dib as the plane flies over his house in Saida. Another spy plane monitors where he worked in Saida. The narrator of the video says: The monitoring was conducted for two years, before Dib was killed by a car bomb on the Saida road.
A video is shown of more UAV footage: The video depicts a surveillance operation over Mahmoud al-Majzoub's residence and workplace in Saida. The narrator of the video says: Majzoub was killed in Saida in 2006.
Following Rafik Hariri's assassination , I visited his family. They asked for Hezbollah's help in finding out who was behind the assassination.
Syria was initially accused of assassinating Hariri , until German magazine Der Spiegel published an article in May 2009 accusing Hezbollah of murdering Hariri .
Hezbollah held a meeting addressing Israeli collaborators. We assumed many collaborators escaped from Lebanon, but a few others remained in Lebanon.
We decided to go back to archives we had since 2005 to see if we can intercept Israeli UAV footage of roads used by Rafik Hariri that could be targeted by Israel.
We will display footage of Israeli UAV surveillance, mostly over Beirut.
You will notice that the surveillance that we intercepted is being made from different angles. It is not being made [just] to conduct surveillance in general, but to prepare for a possible operation.
I want you to watch how they spied on the various routes taken by Rafik Hariri
Al Manar shows video of Israeli UAV surveillance of routes used by Rafik Hariri: Hariri's house in Beirut is circled by the UAV , as is the PM's palace, Nejmeh Square and the Parliament. The UAV also follows a road taken by Hariri along the sea, including the Saint George area where Hariri was killed . Surveillance focusing on the Saint George area in detail is shown. A red circle shows the spot where Rafik Hariri was killed.
Are there any Hezbollah offices in these areas monitored by Israel?
Why is Israel monitoring these locations?
Is it a coincidence that Israel is monitoring Rafik Hariri's routes ?
Al Manar shows video is shown of Israeli UAV surveillance: The footage focuses on the Nahr al-Kalb tunnel, Jounieh, Dbayeh, after which the UAV focuses on the Faqra-Ayoun al-Siman area, which is covered in snow. The footage then shifts to the Yasou al-Malak road, which is the only road that leads to Rafik Hariri's spa in Faqra.
Al Manar shows a video of Israeli UAV surveillance: The plane monitors the Jiyeh highway and the Saida entrance.
Al Manar shows another video of Israeli UAV surveillance: The UAV reaches Nejmeh Square, after which it flies over the residence of Rafik Hariri's brother, Chafik.
We think that these videos were made in preparation for an operation.
Now we will move on to Israel's activity on February 14, 2005, the day of Rafik Hariri's assassination.
Al Manar shows another video on Israeli aerial activity over Lebanon on February 13 and 14, 2005: The video reports that Israeli reconnaissance planes flew over Saida on February 13, 2005, while several warplanes flew over Beirut ( hours before Hariri was killed) . On February 14, 2005, an Israeli AWACS plane flew over Beirut along with another Israeli spy plane.
This video can be acquired by any investigative commission to ensure it is correct. We are sure of this evidence, or else we would not risk showing it.
We have evidence that Ghassan al-Jedd, an alleged Israeli spy who hosted Israeli operations teams, was present at the Rafik Hariri crime scene. We presented the evidence to the Lebanese authorities, but Jedd escaped from Lebanon before he was caught.
Al Manar shows a video on Jedd: Jedd was born in 1940 and became an Israeli spy in the early 1990s, before he escaped from Lebanon in 2009. He hosted Israeli officers in Lebanon. In March 2004, Israeli officers entered Lebanon through the sea and were hosted by Jedd for 50 hours in a location in Mount Lebanon.
Nasrallah concluded
We don't trust the ( Hariri ) investigation nor the the UN investigation committtee and if the Lebanese government wants to appoint a reliable entity or a committee to look into this evidence we are ready to cooperate .
This is the evidence we have now and will hold onto the balance of the evidence until a later date.
Q/A
What will be your reaction if the investigation into the Rafik Hariri assassination dismissed the evidence?
Nasrallah: This will prove the international commission investigating [Hariri's murder] is politicized.
You presented information linking Israel to Hariri's murder. Will Hezbollah present this information to the STL?
Nasrallah: Unfortunately, Hezbollah does not trust the international investigation, but if the Lebanese government is willing to form a Lebanese commission to investigate the matter, we will cooperate.
How did you uncover information on [alleged Israeli spy] Ghassan al-Jedd?
Nasrallah: I will not answer this question.
Why did Hezbollah cover up evidence for all these years while tension in Lebanon was boiling? Even the story about Ahmad Nasrallah, which dates back to 1996. Why did Hezbollah not speak out before now? Second, Israel takes images of all of Lebanon. Can we doubt that the images showed tonight were and pasted to make it look like Israel was monitoring these places in particular?
Nasrallah: If I presented the evidence in 2005, 2006 or 2007 they would have asked us [at the time], 'Why are you talking about it? You are not accused.' As for the videos, they show surveillance efforts focusing on certain points at certain times, which is evidence that something is being prepared. Investigators can prove it.
Who do you want to convince that Israel killed Hariri?
Nasrallah: I am saying that I want to uncover the truth. Part of the battle is to distort Hezbollah's image. Some [in reference to the US] spent $500 million against Hezbollah. We only want to show that Hezbollah is innocent, while there are others working day and night to ensure Israel comes out innocent.