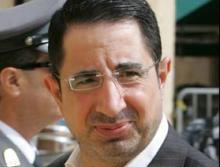 Agriculture Minister Hussein Hajj Hassan , a key member of Hezbollah said critics who think his party and Syria's relationship will sour are wrong, Future News reported on Saturday.
Syrian FM Walid Mouallem reportedly assured Hezbollah MPs during a meeting yesterday that there is no change in Hezbollah- Syrian relations.
Commenting on the Special Tribunal for Lebanon  (STL) Hassan said: "Hezbollah rejects any charge of any kind and any form at any time." he added: "we warn against continued U.S. and Israeli efforts aimed at sowing strife among the Lebanese."
No one really knows what the contents of the STL indictments will be like , but Hezbollah Secretary General Sayyed Hassan Nasrallah admitted in his speech on Thursday July 22 that some of his party members would be named in the tribunal's formal charges but stressed that he will reject the indictments.
Nasrallah's  speech followed a July 20 report in the pro-Syrian newspaper, Al Safir which revealed that Hezbollah members will be indicted by STL in the assassination of Hariri.
STL was formed by the United Nations security council to try the killers of the former Lebanese PM.
Initially Syria was blamed for Hariri's  murder, but Syria denied any wrongdoing . Hezbollah is reportedly upset that the blame has shifter from  Syria to the party. Hezbollah is reportedly also concerned that Syria may dump the Shiite group and Iran in favor of  better relations with the west and the moderate Arab countries .