Mousavi says Iranian leaders could suffer same fate as the Shah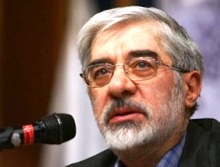 The head of Iran's opposition warned the country's hard-line political leaders Monday that they could suffer the same fate as the deposed Shah if they continue to consolidate their grip on power.
The powerful comparison was Mir Hossein Mousavi's first direct criticism of a ruling system that he was once firmly a part of and represented a bolder stance certain to provoke the authorities' anger.
Specifically, he accused hard-liners of moving toward an oppressive, one-party system, something that the pro-Western Shah Mohammad Reza Pahlavi did in his last years in power by outlawing all but his Rastakhiz party.
"Pahlavi in the final years of the former regime declared Rastakhiz as the only party authorized to operate in the country and we all saw what his fate was," Mousavi said in comments posted on his website Monday.
Mousavi, a former prime minister, was a fervent supporter of the 1979 revolution that threw out the Shah and brought cleric-led government to Iran before recasting himself as a leader of the reform-seeking opposition in last year's disputed presidential election.
The protesters that swept Iranian cities after the vote claimed Mousavi was robbed of the presidency through election fraud. Later, their criticism widened to target Iran's ruling establishment and its harsh crackdown on the demonstrators.
Mousavi, whose leadership of the beleaguered pro-reform camp has waxed and waned, did not follow them in taking on the establishment, limiting his criticism instead to the fraud allegations and authorities' postelection crackdown.
His shift was apparently triggered by comments earlier this month by President Mahmoud Ahmadinejad, who said Iran has only one party and that is the party of Velayat, a reference to the position of Supreme Leader Ayatollah Ali Khamenei.
"The existence of parties, political factions … is necessary for the progress of the country," Mousavi said.
He said the government was now focused on "reproducing dictatorship."
Although Iran's ruling system is now dominated by hard-liners, reformists and moderates still have a limited role and are heard in the parliament and in some state bodies such as the Expediency Council, which advises the supreme leader on key issues.
Hard-liners have also split between extremists who support Ahmadinejad and moderate conservatives who oppose him.
Mousavi said oppression was the cause of political and social tension in Iran.
"Don't assume that you can keep a large number of people – among them the elite, students, teachers, workers, journalists, women and the youth – in jail in the name of an Islamic government and this oppression won't affect people's beliefs," he said.
The massive wave of protests that followed the June 2009 election prompted a government crackdown in which more than 80 demonstrators were killed and hundreds of rights activists, journalists and pro-reform politicians were arrested.
More than 120 people have been put on a mass trial since August on vaguely formulated charges that include seeking to topple the government through street protests. About a dozen have been sentenced to death, and more than 80 others received prison terms ranging from six months to 15 years.
Iran's hard-line government has closed down dozens of pro-reform newspapers, including Mousavi's Kalame Sabz, or Green Word, and blocked hundreds of reformist websites as part of its efforts to clamp down on opposition activities. Washington Post