Hariri: Justice is not open for negotiation
During a conference on Saturday marking the official founding of the Future ( al Mustaqbal) Movement, Prime Minister Saad Hariri said, "There are some who imagine, fear,or probably wish that the issue of former Prime Minister Rafik Hariri's assassination could be a cause for the eruption of a Lebanese crisis or sectarian strife. We say with all honesty and responsibility that there is no place in our national dictionary for these fears or allegations or even wishes."
Hezbollah Secretary General Sayyed Hassan Nasrallah claimed in a speech last Thursday that Hariri informed him back in May that the STL will indict some Hezbollah members, but Hariri today did not deny or confirm the claim.
MP Ammar Houri, a member of the Future movement has reportedly told An-Nahar newspaper that Hariri during a bloc meeting on Friday said he never talked with Nasrallah about the STL indictment.
Hariri said that the case of the assassination of his father has become a national, Arab, and international cause, adding that achieving justice "is not open for negotiation".
Hariri said he would not allow the issue of his father's assassination to be a cause for renewed sectarian strife. This after Nasrallah claimed last week the STL is an "Israeli project" designed to target Hezbollah by inciting sectarian conflict.
"Hariri's soul will not be a reason to restart strife on Lebanese land, so enough intimidation," the prime minister said
"We are dealing with STL with a sense of responsibility to prevent strife from penetrating into our internal unity," Hariri added
He called for calm in the face of "attempts to launch campaigns aimed at creating tension and anxiety among the people."
In response to the Israeli threats Hariri said
"Israel won't be able to overcome Lebanon as long as the Lebanese know how to maintain their national unity. The state is charged with being up to the challenge of an Israeli assault and Lebanese society is responsible for defending the nation " .
Hariri praised what he called his "four successful visits" to Syria which, he said, have opened "a new page" with Damascus.
This page is based on honesty, frankness, brotherhood and respect for the sovereignty and independence of the two states," he said.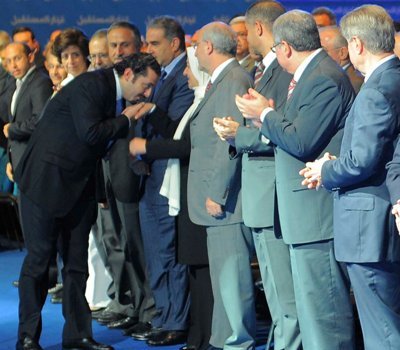 "