UN supports Suleiman's call for calm says envoy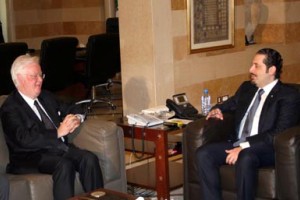 UN Special Coordinator for Lebanon Michael Williams lauded President Suleiman's initiative, stressing to PM Hariri U.N.'s support for "calm and stability inside Lebanon."
He said Suleiman's ongoing talks with rival factions is an attempt to defuse political tension in the country.
Williams made the comments during a meeting with Hariri at the Grand Serail, according to local media reports
Williams met Hariri to go over the results of this month's UN Security Council session that followed the clashes between residents in South Lebanon and UNIFIL troops.
Williams said the council members stressed on the implementation of UN Security Council Resolution 1701 which has established peace in South Lebanon and along the Blue Line .
"A smooth implementation of Resolution 1701 needs calm and stability inside Lebanon," he added.