Suleiman: Lebanon's salvation is only through unity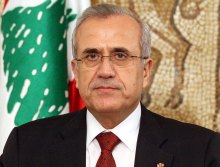 President Michel Suleiman said Wednesday that Lebanon's salvation would only come through the unity of its people and their united stance particularly towards national causes that constitute the backbone of political and security stability.
Suleiman made the statement during a meeting with a visiting delegation of Armenian clergymen , following his meetings with several heads of political parties.
Armenian Orthodox Bishop Kegham Khatcherian stressed, in his turn, the unity of the Armenian sect on national issues and its support for the president.
Ministerial sources told AlHayat newspaper that President Suleiman has been holding separate meetings with leaders of parliamentary blocs in order to calm down the situation in Lebanon following the tension created by the fiery speech last Friday by Hezbollah leader Sayyed Hassan Nasrallah over the the anticipated indictment of the Special Tribunal for Lebanon.
Suleiman held separate talks on Friday with Lebanese Forces leader Samir Geagea , the head of Syrian Social National Party MP Assaad Hardan and Lebanese Democratic Party leader MP Talal Arslan.
Suleiman also met a delegation of Lebanese youth expatriates , Druze delegation headed by Kamil Sarieddine, who is in charge of the Lebanese Druze Council's emigration affairs and Army Commander Jean Kahwaji