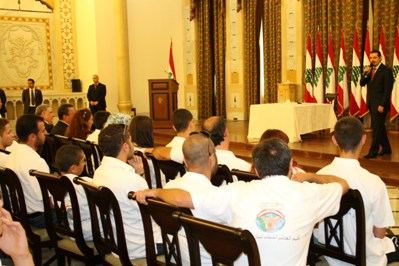 Lebanon Prime Minister Saad Hariri said during an address to a delegation of Lebanese expatriates at the Grand Serail "Life in this country might be very difficult at some stages. But Lebanon is not a hotel….it is a country for life… It is your land, house, family, history and future. "
Hariri said that Lebanon will eventually overcome all its problems.
The delegation represented Lebanese expatriates from more than 20 countries.
He also stressed that current Lebanese residents should not leave the country because of its crises.
"Lebanon will one day emerge from all these problems because we are searching for solutions," Hariri said. "We are trying to build a better future for you and the next generation."
Hariri recalled that his slain father, former Prime Minister Rafik Hariri, left Lebanon to work in Saudi Arabia when he was in his 20s." He was physically outside the country , but his heart and mind were always in Lebanon and when he returned he rebuilt it and died for it. We are now pursuing his path in order to rebuild Lebanon," he added .
He told the delegates "Lebanon's real wealth is its youth" adding "let me assure you that regardless how much much you enjoy living outside the country , you will never find a more enjoyable and more beautiful country than Lebanon"
This error message is only visible to WordPress admins
Error: No connected account.
Please go to the Instagram Feed settings page to connect an account.