Hezbollah chief meets Arslan and IAF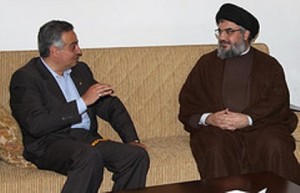 Lebanese National News Agency reported Thursday that Hezbollah leader Sayyed Hassan Nasrallah met with Lebanese Democratic Party chief Talal Arslan to discuss the recent political developments.
Nasrallah also met with a delegation of the Islamic Action Front
NNA said that Nasrallah discussed with the IAF delegation the political situation in Lebanon, the Palestinian territories and the region and plans targeting Lebanon, the resistance and national and Islamic unities.
Hezbollah said in a statement that the two parties stressed the solid alliance between them and said the Shiite group and the IAF were united against all dangers and challenges.
Arslan , a staunch ally of Syria and Hezbollah warned last Sunday of politicizing STL and the "dangerous repercussions" of that possibility on the Lebanese situations.
His comment came after Nasrallah made a fiery speech last Friday in which he called the Special Tribunal for Lebanon (STL) an" Israeli project" that aims at targeting the party and inciting sectarian strife in Lebanon.
Arslan called for differentiating between "an international tribunal — to uncover the murderers of former premier Rafik Hariri and his companions – and a 'political' trial in the country."
Arslan sounded like Syrian Foreign Minister Walid al-Muallem who also commented on the Special Tribunal for Lebanon (STL) and warned last weekend:
"We seek the whole truth and if it targets one political party in Lebanon or Syria or anywhere, then that means that it has been politicized."
STL was formed by the United Nations to try the killers of former PM Hariri , who was assassinated on February 14 , 2005.
A report in the German Der Spiegel magazine dated May 2009 revealed a link between Hezbollah and the assassination of Lebanon's former PM Rafik Hariri, father of the current prime minister.