Turkish FM: Damascus talks yield progress in Iraq gov't crisis
Turkish Foreign Minister Ahmet Davutoğlu appeared optimistic after a series of surprise talks with Iraqi leaders and Syrian President Bashar al-Assad in Damascus,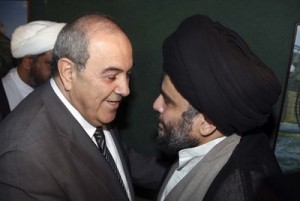 Turkish Foreign Minister Ahmet Davutoğlu appeared optimistic after a series of surprise talks with Iraqi leaders and Syrian President Bashar al-Assad in Damascus, saying there were "positive developments" regarding Iraq's troubled government formation process.
Davutoğlu paid a previously unannounced visit to the Syrian capital on Monday for what turned out to be a hectic round of talks with Assad, Lebanese Prime Minister Saad Hariri, Palestinian Hamas leader Khaled Mashaal and, most surprisingly, two Iraqi political leaders: former Prime Minister Iyad Allawi, whose al-Iraqiya coalition won the country's latest election with a narrow margin of two seats, and anti-Western Shiite cleric Muqtada al-Sadr.
"I had talks with Iraqi leaders, all of which went very well," Davutoğlu told reporters before wrapping up his less-than-24-hour visit to the Syrian capital. "I had very extensive meetings with Allawi and al-Sadr. There are positive developments."
Iraq has been gripped by violence and political intrigue since the election in March, which failed to produce an outright winner. Shiite Allawi's cross-sectarian al-Iraqiya coalition narrowly won the most seats, but the rival Shiite-led coalition of Nouri al-Maliki could still form the government if it manages to forge alliances with other groups. Turkey says it maintains dialogue with all Iraqi groups but says the new Iraqi government should be broad-based, meaning the Sunnis, who have no representation in Maliki's coalition, should also be represented in the government.
In a landmark development, Sadr and Allawi also met separately in Damascus on Monday after they were separately received by Assad and then Davutoğlu. Davutoğlu met Allawi at the Turkish Embassy in Damascus and Sadr at a hotel.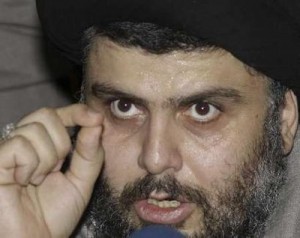 Sadr praised Turkey's Middle East policies, saying they aim to promote interests of the Iraqi people and the region, and added that he was pleased that Davutoğlu had requested to meet him. Davutoğlu also commended Sadr, saying he and his family has made big contributions to Iraq. "We appreciate your efforts for the unity of Iraq and its future and we see Iraq's fate as our own," Davutoğlu told Sadr, according to sources close to the meeting.
Sadr, an anti-US figure who has emerged as a kingmaker in Iraqi politics, did not endorse Allawi but said Allawi had shown more willingness to compromise than Prime Minister Maliki, who is trying to cling to power after the inconclusive election.
Allawi was Iraq's prime minister in 2004 when US forces surrounded Sadr and his followers at the Imam Ali shrine in the Iraqi holy city of Najaf before Ayatollah Ali al-Sistani, an Iranian-born cleric, intervened and ensured Sadr safe passage, avoiding a bloodbath inside the grand mosque.
Allawi has had uneasy ties with the Najaf seminary and with Islamists in general. He has also criticized the role of Iraqi clergy in politics. "If there were past differences, I am forgetting them so that the political process proceeds," Sadr was quoted by Reuters as telling reporters. "I don't back specific names, but programs and mechanisms to arrive at the next prime minister," he added, saying Allawi had promised him to draft a political program he would adopt if he became prime minister.
Allawi said Sadr's views were "positive, showing care to preserve Iraq and accelerate forming a government and added, "Something I am sure of is that the Sayyed [Sadr] will honor his word," Allawi said.
An aide to Allawi said he could become prime minister if he secured the support of Sadr and the two main Kurdish blocs. Allawi has good ties with key Arab rulers and the United States, and has been trying to exploit discord between Iraq's main Shiite factions over Maliki's attempt to win a second term.
Palestine unity and Israel
Davutoğlu's talks also focused on a crisis in Turkey's ties with Israel and efforts to unite rival Palestinian factions Hamas and Fatah. Sources close to Monday's meetings said the talks with Mashaal, who lives in exile in Syria, reviewed efforts for reconciliation between the Palestinian groups and the Palestinian-Israeli conflict. Tensions have been high between Hamas and Fatah since 2006, when Hamas won the Palestinian election. Following fighting in the Gaza Strip in 2007, Hamas began to run the Gaza Strip while Fatah is in charge of the West Bank.
The foreign minister also had both three-way and separate talks with Assad and Hariri, discussing plans to create a free-trade zone among Turkey, Syria, Lebanon and Jordan on the basis of an agreement in June. Foreign ministers of the four countries agreed during talks in İstanbul that the free-trade zone will be based on "existing bilateral agreements and practices on free trade and visa exemption" between the parties and will be open to the participation of other countries as well.
In talks with Assad, Davutoğlu also discussed tensions between Turkey and Israel. Both agreed that an international commission should be created to investigate an Israeli raid on May 31 on an aid ship trying to break the blockade of Gaza, which resulted in killing of eight Turks and one American.
On Iraq, Davutoğlu and Assad agreed that a government that would unite Iraqis and bring stability to the country must be established as soon as possible. They also rejected foreign intervention, saying solutions to the problems of the region should come from within the region, not outside.
Whether their appeal is acceptable to all Iraqis is an open question though. During a visit to the US earlier this month, Iraqi Foreign Minister Hoshyar Zebari, a Kurd, said the US involvement in Iraq has not been sufficient especially given the far more assertive approach of countries of the region such as Turkey and Iran, which is pushing the two Shiite blocs, including that of Maliki, to settle on a common candidate for prime minister to ensure that the next government will be Shiite-dominated.