March 14 accuses Hezbollah of threatening national security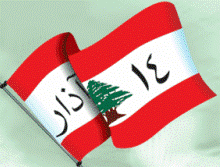 Following the weekly meeting, the March 14 General Secretariat issued a statement on Wednesday in which it said that the speech of Hezbollah Secretary General Sayyed Hassan Nasrallah last Friday threatens national security.
March14's statement condemned Nasrallah's "intimidating rhetoric."
March 14 also said Hezbollah is disrespecting the Doha Agreement by accusing other Lebanese factions of treason and threatening to use weapons for political aims.
The statement also condemned Free Patriotic Movement leader MP Michel Aoun for advising Nasrallah, according to a report from As-Safir last week, "to change the rules of the game – as there is a Lebanese faction that is still betting on a new Israeli war."
The statement urged the state, including its security forces, to be responsible in safeguarding civil peace.
The statement also urged spiritual authorities that believe in Lebanon's existence as a single entity to confront threats to the Islamic-Christian coexistence in the country.
The statement said the Arab League, which sponsored the Doha accord, should guarantee "joint Arab support for the Lebanese state, its sovereignty, freedom and democracy."
"All sides, including Hezbollah, have no choice but to abide by the authority of the state under the conditions of the state," the statement said. "Projects of hegemony, control and elimination are impossible to achieve."
"Violence does not terrorize people who are resolved to preserve their freedoms," the statement added