A Greek reporter was shot dead by leftist guerrillas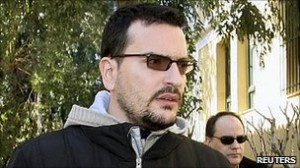 A Greek reporter was shot dead on Monday by leftist urban guerrillas outside his home in an Athens suburb, the first murder of a journalist in Greece in more than 20 years, the police said.
The reporter, Sokratis Giolias, 37, the news director at a radio station, was shot several times at close range. No one claimed responsibility for the killing, but a ballistics investigation showed that the guns used had been used in earlier attacks by the Rebel Sect, one of Greece's deadliest militant guerrilla groups, according to a police statement.
The group, which has said that journalists were among its targets, opened fire last year on the headquarters of Alter TV, a private network, but no one was injured. NYT
Photo: Sokratis Giolias was about to report on corruption, colleagues said