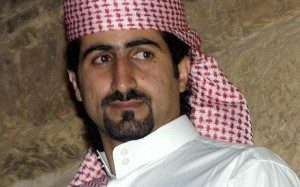 Omar bin Laden said Tehran had refused to discuss their fate with Saudi Arabia.
"I think the time has come for my family members to leave Iran but their lack of identification papers and passports made us in need of another third-party country willing to receive them after Iran refused to hand them over to Saudi Arabia," said Mr bin Laden, the fourth son of the Saudi-born head of the al-Qaeda global terror network.
He said he hoped Qatar would intervene on behalf of his siblings, who fled to Iran during the 2001 US bombing of Afghanistan and have since lived there under house arrest.
"We have been dealing with the Qatari government. They have been very helpful and working very much on it. They have given a lot of help to other countries in the world, and we hope they can help us," he said.
Several of Osama bin Laden's children with his first wife, Najwa, fled to Iran in 2001, including Othman, aged about 27, Fatima, about 22. Bin Laden's third wife, Khairiyah, and their son, Hamza, aare also believed to be in Iran.
Omar bin Laden's sister Iman, about 17, was released three months ago after she took refuge at the Saudi embassy in Tehran and is now in Syria, he said. The others live in a Tehran compound and cannot leave or make telephone calls without permission, he said.
"They have done nothing wrong, none of them," he said.
Mr bin Laden, currently living in Qatar, said he believed his family had a better chance of being released if they planned to go to a country other than Saudi Arabia.
"Iran has a problem with Saudi Arabia. They don't want (the family) to go back home. That's why I am asking for Qatar's help, for Syria's help," he said. "They want to come here, or to Syria, or to any country in the world that would accept them."
Relations between Sunni Muslim Saudi Arabia and non-Arab, Shia Iran have been marked by regional rivalry and mutual mistrust due to sectarian tensions between Sunnis and Shia and Tehran's nuclear plans.
A US ally which hosts a large US military base, Qatar has sought to carve out a role as a regional powerbroker, particularly in its efforts to engage Iran.
The tiny Gulf country, the world's top natural gas exporter, has been a peace broker in conflicts including those in Lebanon, Yemen and Darfur.
Qatar has drawn close to Iran since Shias came to power in Iraq after the 2003 US-led invasion and Iran's influence grew in Syria, Lebanon and among Palestinians.
Doha hosted Iran's President Mahmoud Ahmadinejad last year in a crisis meeting over Israel's war on Gaza, which was boycotted by Egypt and Saudi Arabia.
Mr bin Laden has been working with other bodies, including the United Nations, to obtain his family's release, he said.
Omar bin Laden broke with his father in 2001 after living in Afghanistan for much of 1996 to 2001. His father is believed to have about 20 children from several wives.
Osama bin Laden was born into a wealthy Saudi family but had his nationality revoked. He is believed to be hiding in the mountainous border areas of Afghanistan and Pakistan. Telegraph