Syrian FM warns over politicization of STL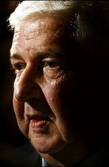 Syrian Foreign Minister Walid al-Muallem also commented on the Special Tribunal for Lebanon (STL) and warned today:
"We seek the whole truth and if it targets one political party in Lebanon or Syria or anywhere, then that means that it has been politicized."
He added:
"If any Syrian citizen was proven to be involved in the assassination, then he will be tried in Syria on charges of grand treason."
he voiced hopes that visits between Lebanese and Syrian officials would increase in the future, adding that Syrian President Bashar al-Assad's trip to Lebanon "will take place at the appropriate time".
Muallem denied that the demarcation of the Lebanese-Syrian border is facing difficulties, saying that committees have been formed in Lebanon and Syria over this matter.
He denied that there are difficulties in reaching an agreement between the two states over matters of defense and foreign affairs.
He said that he and his Lebanese counterpart Ali al-Shami constantly coordinate matters, adding that Lebanese Minister Elias Murr's absence from the trip has prevented them from discussing defense issues.
STL has come under attack recently by Hezbollah and its Iranian Syrian backed allies.
STL was formed by the United Nations to try the killers of former PM Hariri , who was assassinated on February 14 , 2005.
A reported in the German Der Spiegel magazine dated May 2009 revealed a link between Hezbollah and the assassination of Lebanon's former PM Rafik Hariri, father of the current prime minister.
Initially Syria was accused of being behind Hariri's murder , but ever since the Der Spiegel report surfaced, all fingers have been pointing at Hezbollah. Many analysts however believe that Hezbollah could not have done it without Syria's help. The relationship between Hariri and Assad was at its lowest point when the Lebanese PM was assassinated.
According to media reports the tribunal's indictment will be issued before the end of 2010. There are also reports that some Hezbollah members are named in the indictment.
Lebanon Prime Minister Saad Hariri who is in Damascus on a two day official visit was asked on Sunday by a reporter about the Special Tribunal for Lebanon (STL) and his response was : "Let's all deal with the matter calmly, " MTV's correspondent reported.
He made the statement following his meeting with Syrian President Bashar al-Assad .