Another ally of Hezbollah, Syria attacks STL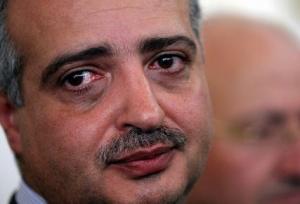 In a well coordinated move, another ally of Hezbollah and Syria launched an attack against the the Special Tribunal for Lebanon.
During a press conference following a meeting with visiting Vice President of the French National Assembly, socialist MP of Paris, Jean-Marie Le Guen, Lebanese Democratic Party leader MP Talal Arslan , a staunch ally of Syria warned of politicizing STL and the "dangerous repercussions" of that possibility on the Lebanese situations.
Arslan called for differentiating between "an international tribunal — to uncover the murderers of former premier Rafik Hariri and his companions – and a 'political' trial in the country."
For his part, Le Guen said: "Regional and international complications reveal that there is a regional tug-of-war which reflects itself on the Lebanese internal situations, the thing that requires solutions at the level of the Palestinian plight and the Arab-Israeli conflict."
"We also hope the decisions of the international tribunal wouldn't negatively affect internal stability in Lebanon," Le Guen added.
Arslan sounded like Syrian Foreign Minister Walid al-Muallem who also commented on the Special Tribunal for Lebanon (STL) and warned today:
"We seek the whole truth and if it targets one political party in Lebanon or Syria or anywhere, then that means that it has been politicized."
Muallem added:
"If any Syrian citizen was proven to be involved in the assassination, then he will be tried in Syria on charges of grand treason."
STL was formed by the United Nations to try the killers of former PM Hariri , who was assassinated on February 14 , 2005.
A report in the German Der Spiegel magazine dated May 2009 revealed a link between Hezbollah and the assassination of Lebanon's former PM Rafik Hariri, father of the current prime minister.
Initially Syria was accused of being behind Hariri's murder , but ever since the Der Spiegel report surfaced, all fingers have been pointing at Hezbollah. Many analysts however believe that Hezbollah could not have done it without Syria's help. The relationship between Hariri and Assad was at its lowest point when the Lebanese PM was assassinated.
According to media reports the tribunal's indictment will be issued before the end of 2010. There are also reports that some Hezbollah members are named in the indictment.
Lebanon Prime Minister Saad Hariri who is in Damascus on a two day official visit was asked on Sunday by a reporter about the Special Tribunal for Lebanon (STL) and his response was : "Let's all deal with the matter calmly, " MTV's correspondent reported.
He made the statement following his meeting with Syrian President Bashar al-Assad .