Aoun defends airport security chief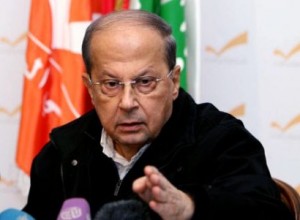 Following a meeting of the Change and Reform bloc, MP Michel Aoun defended Beirut airport security chief Brigadier General Wafiq Shoucair calling him " a man of professional conscience".
Aoun said Shoucair should not be blamed for the Nas Air incident but rather the tools at his disposal".
Shoucair, who like Aoun is closely associated with Hezbollah was one of the reasons behind the May 2008 dispute, following which Hezbollah occupied west Beirut and tried but failed to occupy the Druze stronghold of Mt. Lebanon. Hundreds of people were killed during the uprising.
Palestinian rights
Aoun told reporters that Christian parties didn't act with prejudice when the issue of Palestinian refugees was raised. "Our stance is similar to that of the Phalange Party and the draft law would be put to the vote of the parliament after being studied", he said.
Aoun stressed that he cannot agree to any law that gives the Palestinians the right to own property.
Last month , during an extraordinary session of the parliament the Progressive Socialist Party leader proposed a bill that grants Palestinian refugees in Lebanon civil rights and allows them to own property. The bill was referred by Speaker Nabih Berri to the administrative and justice committee to study and submit recommendation to parliament .
Hezbollah and Amal MPs voted in favor of the bill, while the Phalange party , Lebanese Forces and Change and Reform blocs voted against it.
Aoun denied discussing politics during yesterday's meeting with Jumblatt and said it was " strictly social"
Sfeir's visit to Kesrwan
Aoun called on all his supporters to welcome Lebanese patriarch Nasrallah Boutros Sfeir when he visits Kesrwan, but declined to confirm that he will meet the Maronite Spiritual leader locs voted against it