Baroud: Lebanon driver's license is not a permit to kill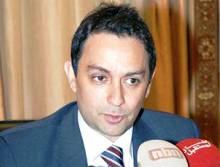 Lebanon's Interior Minister Ziad Baroud stressed Friday that roads in Lebanon need drastic improvements, highlighting the importance of carpooling and public parking and other solutions that may ease the traffic jams.
Baroud made his statements following a visit to the Vehicles Management Authority in Dekwaneh, where he noted an improvement in the oral driver's exams, saying the issue is being treated more seriously.
Addressing traffic accidents, the minister said: "Nearly 600 people are killed every year in traffic accidents … and the most recent deaths have been a result of reckless driving."
"A driver's license is not a gift that is sent to a house to be presented to our children when they turn 18, this is tantamount to a permit to kill people on the road," Baroud added.
He therefore called for adding more articles to the traffic law and speeding up its approval, revealing an increase in traffic fines "which will act as a deterrent to all who may commit a violation."
Baroud explained that his visit to the Vehicles Management Authority is aimed at taking in the people's complaints, urging whoever is asked for a bribe or faces any problem to inform the Ministry of Interior. Naharnet