Spain to accept released Cuban prisoners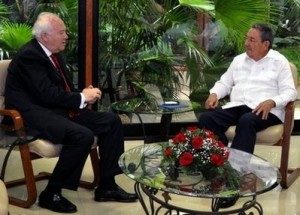 Spain's foreign minister has agreed to take in the 52 Cuban political prisoners who are set for release, Spanish diplomatic sources said Thursday.
Five will go to Spain immediately and the 47 others will arrive in three or four months, the sources said.
Cuba's Roman Catholic church announced Wednesday that the prisoners would be released. It coincided with a visit to Cuba by Spanish Foreign Minister Miguel Angel Moratinos, who met with his Cuban counterpart, Bruno Rodriguez, Cuban President Raul Castro, and the island's Roman Catholic cardinal, Jaime Ortega.
It would be one of Cuba's largest prisoner releases in recent history.
Last month, Cuba released dissident Darsi Ferrer and ailing prisoner Ariel Sigler, who is awaiting approval from the U.S. government to join family members in Florida.
Sigler's release drew praise from the U.S. State Department, which called it "a positive development." The two countries broke off diplomatic relations in 1961 but maintain "interests sections" in Havana and Washington that operate like embassies.
The U.S. Interests Section in Havana was not immediately available for comment on Wednesday's announcement of prisoner releases. Human rights issues have long been a sticking point in normalizing relations between the two countries.
The founder of the Cuban Human Rights and National Reconciliation Commission, Elizardo Sanchez, recently put the number of political prisoners in Cuba at 167, according to Wayne Smith, a senior fellow at the Center for International Policy and the chief of the U.S. Interests Section in Havana from 1979 until 1982.
That is the lowest number of political prisoners in Cuba since 1960, Smith said.
News of the release raised questions about whether Cuban dissident Guillermo Farinas will end his months-long hunger strike in protest of Cuba's imprisonment of political activists.
His doctor, Ismeli Iglesias Martinez, said Farinas may now become "more flexible" with his protest, and may start drinking fluids.
Farinas is in a hospital in his hometown of Santa Clara. He has said he began his hunger strike in February, shortly after jailed dissident Orlando Zapata Tamayo died in prison at the end of his own prolonged hunger strike.
Zapata's death sparked international condemnation from Europe and Washington, and drew a rare statement of regret from Castro.CNN
Photo: Handout picture released by the Cuban government shows Cuban President Raul Castro (R) meeting with Spain's Foreign Minister Miguel Angel Moratinos in Havana.