BP stops refuelling Iranian passenger planes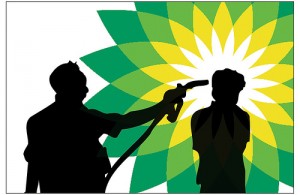 It came just days after President Barack Obama signed sanctions prohibiting the sale of refined petroleum products worth more than £3.3 million a year.
But experts claimed the oil firm's move was an attempt to keep the US administration happy following weeks of strained relations caused by the Gulf of Mexico oil spill.
BP's move was revealed yesterday after the Iranian authorities said its planes had been refused fuel in Britain, the United Arab Emirates, Germany and Kuwait in recent days.
BAA, which owns Heathrow Airport, and other civil bodies have denied taking action, which would go beyond the sanctions agreed at the United Nations last month.
But The Daily Telegraph has been told that BP stopped its contract to provide fuel to at least one Iranian air company in Dubai, an important hub for Iranian travel, three days ago. BP is also understood to have sent orders to its European subsidiaries and partners telling them to withdraw services from Iranian airlines.
The company said it could not comment on individual contracts. But it has been under heavy pressure from the US administration since the accident in the Gulf of Mexico accident, where a ruptured well has been spewing crude since April 20.
BP has been trying to mollify hostile opinion in the United States both over the spill and a North Sea joint venture involving a state-owned Iranian oil company.
But Kenneth Sherrill, an American analyst, said the oil giants attempts to please the American government were unlikely to succeed.
"This is probably grasping at straws," he said. "They've been getting such bad advice that its not surprising they would try to pull a rabbit out of the hat like this but I think it will be perceived as a cheap distraction."
Iran has huge oil reserves but has limited refining capacity, and its economy would be severely affected by any ban on imports of petrol and other refined oil products.
They were not included in the UN sanctions list, but international oil giants have been withdrawing from trade with Iran in any case to ensure they can continue to do business with the United States, which has imposed its own tougher measures, including against fuel supplies.
The secretary of the Iranian Airlines Union, Mehdi Aliyari, said: "Since last week, our planes have been refused fuel at airports in Britain, Germany and UAE because of the sanctions imposed by America." He said it was a violation of international aviation regulations.
The state news agency quoted an Iranian MP, Heshmatollah Falahatpisheh, saying there would be retaliation. "Iran will do the same to ships and planes of those countries that cause problems for us," he said.
A spokesman for the Foreign Office said it was not aware of any occasions on which fuel had been refused in the UK, but said that it was up to individual companies to decide how they should comply with sanctions regimes.
A spokeswoman for BAA said it had neither received nor passed instructions for a ban, and added that the daily Iran Air flight between Tehran and London was continuing to operate. The airlines bmi and Emirates, which still serve Tehran, appear to have been unaffected by the dispute.
Authorities in Germany and the UAE also denied knowledge of a ban. "We have contracts with Iranian passenger flights and continue to allow refuelling," a spokeswoman for Abu Dhabi Airports Company said.
Dubai Airport said refuelling was continuing but sources said an international supplier was refusing to service Iranian planes at airports across the world.
"A servicing company which provides fuelling at several airports around the world has refused to provide Iranian planes with fuel, including at UAE terminals," he said.
"The Iranian air operators have alternative sources for refuelling at UAE airports."
A spokesman for APCO, an aviation fuel supplier, said it had begun refuelling Iranian planes three days ago in Dubai on a case-by-case basis after BP dropped their contract. "It was BP's contract, but they stopped it, and it came to us instead," he said.
A BP spokesman refused to confirm or deny its involvement, but said: "We fully comply with any international sanctions imposed in any country where we operate.
"We do not discuss details of individual contracts with airlines."
The Wall Street Journal said BP's offices in Europe had been faxed instructions to stop supplying Iran Air and other airlines in the light of the US sanctions. Telegraph