Assad's visit to Argentina sparks conflicting reaction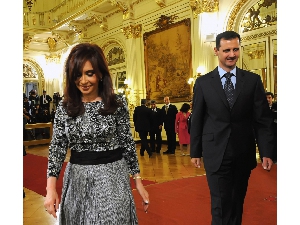 Syrian President Bashar al-Assad last week supported Argentina's sovereignty claim to the British-controlled Malvinas Islands during a visit which sparked conflicting reactions from experts as well as Islamic and Jewish leaders.
Visiting Argentina as part of his Latin American tour, his host, President Cristina Fernández de Kirchner, said at a reception on Friday that Israel should give back the Golan Heights it occupied during the 1967 Six-Day War with Syria, and abide by United Nations resolutions to ensure a safe and peaceful co-existence with a Palestinian state.
The information was provided to the Herald by Samir Salech, the head of Argentina's Islamic Centre (CIRA), who attended the reception as the head of a 26-member strong CIRA delegation.
The reception was originally meant to have been held at the Foreign Ministry, but Fernández de Kirchner said a marquee installed by her political rival, centre-right Buenos Aires Mayor Mauricio Macri, at the nearby San Martín square made the site "uncomfortable."
After visiting Cuba, Venezuela and Brazil, Al-Assad became the first Syrian president to visit Argentina, a nation with three million people of Arab origin. Of 400,000 Muslim Argentines, 70 percent are of Syrian and Lebanese origin.
His visit received little coverage in the local media as only Syrian media and the local Islamic News Agency (AIN) was given access to the reception.
According to AIN, Al-Assad said Israeli practices in the occupied territories such as killings, land expropriation and settlement show that Israel doesn't want peace.
The Syrian president said that Syria continued to support Argentina's claim to the Malvinas, which, he added, it calls Malvinas and not the Falklands, contrary to the British terminology. Argentina and Britain went to war in 1982 over the archipelago which has been in British hands since 1833.
Fernández de Kirchner's comment was the only time Israel was raised at the reception. Salech said that no mention was made of the 1994 terrorist attack which levelled the AMIA Jewish community building killing 85 people in Buenos Aires or a 1992 attack which destroyed the Israeli Embassy and killed around 29 people.
Argentina is home to Latin America's largest Jewish community, which stands at around 250,000. Both local Islamic and Jewish leaders praise relations between the two communities in Argentina as an example of harmonious co-existence.
Angel Schindel, the head of the DAIA Jewish umbrella organization in Argentina, was quoted by the Jewish News Agency (AJN) as decrying Al-Assad's visit.
"Due to his anti-Israeli stance and his support of terrorist groups which planted the bomb at the AMIA building, we can't do anything but repudiate this visit," Schindel said.
Israel blames the two attacks on Iran and the Lebanon-based Hezbollah militant group. However, Iran and Teheran dismiss the charges as "Zionist propaganda."
Within that context, Al-Assad's visit is very important for Argentina considering that the other major power in the Middle East is Iran, a country with which Argentina is locked in conflict over the AMIA attack, Juan Gabriel Tokatlian, an international relations expert at the private San Andrés University told the Herald.
At Argentina's request, Interpol has issued international warrants for the arrest of current or former Iranian officials accused by an Argentine court of being involved in the AMIA attack. However, Iran refuses to extradite them and, as a consequence, bilateral relations and trade have been harmed.
"In the face of Iraq's declining power due to the US occupation, some Saudi Arabia instability and Iran's nuclear ambitions, Syria appears to be a relatively moderate player," Tokatlian said.
Asked how he saw the close links between both Venezuela and Brazil with Iran, he added that Assad's tour focused more on energy with regard to the economic field, but in the political arena the moderate stance of Brazil and Argentina was closer to Syria's approach to the Middle East conflict.
However, Jorge Castro, a Foreign Strategic Planning Secretary during the tenure of neo-conservative president Carlos Menem (1989-1999), told the Herald that "to describe Syria as a moderate doesn't mean much" and that the relevance of Al-Assad's visit was "nil."
He recalled that Syria was an ally of the US in the Gulf War against Saddam Hussein and the trip comes with "a 10-year delay." Al-Assad was elected in 2000 and re-elected in 2007.
Tokatlian said that in the face of the dwindling trade with Iran, which was a major buyer of Argentine grain, Argentina should take advantage of the Syrian president's visit to enhance trade.
"Argentina has sold nuclear reactors for peaceful purposes to both Algeria and Egypt. Syria may likely be an important market for that kind of energy," he said.
CIRA head Salech said Fernández de Kirchner highlighted the fact that 60 percent of Argentine yerba mate ground leaves exports go to Syria, a trade estimated at 20 million dollars a year. He added although Syria is located above the Equator, Al-Assad said that Syria and Argentina share a "South-South destiny."
Al-Assad's Latin American tour started on June 25 and ended yesterday.
By Guillermo Háskel