Amnesty Intl: Syria must reveal the truth about prison disappearances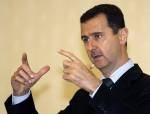 Here is the Amnesty International report which called on Syria to reveal the truth about the 2008 prison disappearances.
"Amnesty International has called on the President of Syria to reveal exactly what happened to 52 prisoners who went missing during and after disturbances at a military prison that also left at least 22 people dead.
The clashes between inmates and military police at Saydnaya Military Prison near Damascus began on 5 July 2008. Unconfirmed reports say the violence erupted after police officers shot dead nine Islamist prisoners.
"It is high time that the Syrian authorities revealed what occurred at Saydnaya Military Prison two years ago, and what has happened to the more than 50 inmates who have not been seen since,â?? said Malcolm Smart, Amnesty International's director for the Middle East and North Africa.
Families, lawyers and human rights organizations have campaigned for an independent investigation into the disturbances but the Syrian authorities have revealed few details about them or what happened afterwards.
â??The authorities must inform the families what has become of the prisoners who subsequently went missing, whether they are alive or not and, if so, where they are now being held and allow them access to them,â?? said Malcolm Smart.
"Families of prisoners who died or were killed must be told without any further delay exactly how and when they died, and what steps, if any, the authorities have taken to investigate their deaths and hold to account those responsible, whether officials or other prisoners.â??
An information blackout, including a year-long ban on all communication with inmates, has made it impossible to independently ascertain the exact nature of the disturbances, how long they lasted or who was responsible for sparking the violence.
According to unconfirmed reports, Military Police officers threw copies of the Qur'an on the floor during a routine search of the prison, and then shot dead nine Islamist prisoners who tried to pick them up.
Unarmed Islamist prisoners are said then to have overpowered the police, taking several hostages together with the prison director, and to have seized their guns and mobile phones – which they used to call their families to alert them and local and international human rights organizations about what was happening.
They said they were protesting to demand that their lives be spared and that measures be taken to improve prison conditions. Communication between prisoners and the outside world then stopped.
Later, families of prisoners held at Saydnaya reported seeing ambulances shuttling between the prison and Teshrin military hospital in Damascus, apparently carrying those killed and injured at the prison.
At least 17 prisoners and five Military Police officers are said to have died during the protests.
Amnesty International sent Syrian President Bashar al-Assad the names of the 52 prisoners missing from Saydnaya requesting that their fate and whereabouts be clarified.
The family of one of the missing 52 – prisoner of conscience Nizar Ristnawi – hoped that they would be reunited with him after his prison sentence expired on 18 April 2009, but he was not then released and to date they have been not able to find out what has happened to him.
Mohammad Tayeb Dardaar and Ziad al-Kilani, who were both being held at Saydnaya prison in July 2008 while they were standing trial with seven other defendants, have not been seen since. Their co-defendants were convicted and sentenced to prison terms in February 2010 but the names of Mohammad Tayeb Dardaar and Ziad al-Kilani had been inexplicably removed from the case file.
Amnesty International has repeatedly pressed the Syrian government to clarify what occurred at Saydnaya prison, say what steps they have taken to investigate and to bring to justice those responsible for the deaths which occurred, and to clarify the fate and whereabouts of missing prisoners.
The organization wrote to Syria's Ministers of Defence, Minister of Justice and Foreign Affairs last September, but without response, and has now made a direct appeal to Syrian President Bashar al-Assad.
On 14 May 2010, after examining Syria's record on combating torture, the UN Committee against Torture expressed concern about the lack of "official and independent investigation" into the Saydnaya disturbances or "public announcement of the identities of persons killed or injured".
The UN urged the authorities to "carry out an independent investigation" and to "inform the families of those prisoners if their relatives are alive and still held in prison"."