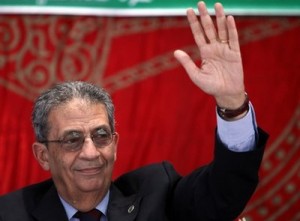 Arab League chief Amr Moussa is in Beirut with his wife on a 4-day private visit during which he will meet with President Michel Suleiman, Speaker Nabih Berri, Premier Saad Hariri and Foreign Minister Ali al-Shami.
Moussa, is scheduled to receive Saturday an honorary doctorate from the Lebanese American University (LAU).
Asked about the Arab Peace initiative when he arrived Thursday at Rafik Hariri International Airport, Moussa reiterated that "the initiative is still on the table."
In response to a question on the situation in Gaza , he said it is "tragic".
Asked whether he would accept an invitation to participate in the "Freedom Flotilla II" aboard the "Mariam" and the "Naji al-Ali" aid ships that may leave Lebanon for the Gaza Strip in the near future, Moussa said: "First of all, I would like to know the identity of those who may address such an invitation, and I'm here in Beirut, so they can talk to me directly and bestow such an invitation."