MPs block Ahmadi-Nejad university plan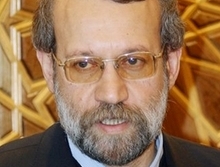 Supporters of Iran's president demonstrated outside the country's parliament on Tuesday after MPs dealt Mahmoud Ahmadi-Nejad a severe blow by rejecting one of his key proposals.
The move to prevent Mr Ahmadi-Nejad from expanding his control over Azad University in Tehran was the latest sign of infighting within the fundamentalist camp that dominates the regime.
"Shame on you, traitor MPs," protesters chanted after the vote.
Azad University is one of the largest centres of education in Iran, with 1.5m students and assets worth tens of billions of dollars.
The institution is considered a stronghold of support for Akbar Hashemi-Rafsanjani, the former president and a rival of Mr Ahmadi-Nejad. The government said the reformist opposition had access to the university's resources during the presidential election campaign last year.
Mr Ahmadi-Nejad tried to install government appointees on the board of trustees of the university and prevent Mr Rafsanjani from transferring its assets to a religious foundation. But this plan was rejected by parliament by 134 votes to 72.
Ali Larijani, the speaker of parliament and another rival of the president, helped engineer Mr Ahmadi-Nejad's defeat. Ayatollah Ali Khamenei, the supreme leader, who has the final say on all significant policy decisions, chose not to intervene. Mr Larijani said the ayatollah had not expressed any specific view on the status of Azad University and the matter would now go before the Guardian Council, which must approve parliament's decision.
Some analysts suspect parliament has received a green light from Ayatollah Khamenei to curb Mr Ahmadi-Nejad.
The supreme leader, who openly supported the president during last year's election and stood by him during the months of unrest that followed, has refrained from backing Mr Ahmadi-Nejad in his public speeches during the past few months.
Mr Ahmadi-Nejad's message has recently differed from that of his religious supporters. He warned police last week not to harass young Iranians whose dress might be held to break with Islamic teaching. His comments followed state-organised rallies in support of stricter enforcement of dress codes.
Some MPs have begun collecting signatures for a petition to summon Mr Ahmadi-Nejad over his comments on this issue. Analysts believe that if the regime ever decides to remove the president, it would probably be done through parliament.
"Parliament has been ready to impeach Mr Ahmadi-Nejad but will do so only if the supreme leader gives a go-ahead," said a former senior official. In the past, however, Ayatollah Khamenei has made clear that he believes the president should stay in office.