Lebanon cabinet approves budget for first time in 5 years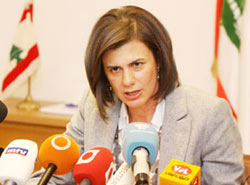 For the first time in 5 years , the Lebanese cabinet was able approve the budget.
The unanimous approval came following the amendments incorporated by Finance Minister Rayya al-Hasan, according to Information Minister Tareq Mitri.
Mitri said that the budget will be submitted to the Parliament for final approval.
The total budget for 2010 is $13.3 billion and is based on relatively modest economic growth of 4.5 percent, sources at the finance ministry said, while the International Monetary Fund's growth forecast for 2010 is at least eight percent.
"The ministry should remain cautious on growth forecasts, but all the indicators suggest much bigger growth (than 4.5 percent)," ministry advisor Nabil Yamout said.
The 2010 budget projects expenditure of 13.3 billion dollars and revenues of 9.3 billion dollars. The resulting deficit of 4 billion dollars is 10 percent of GDP, up from nine percent at the end of 2009.
Lebanon's national debt is over $50 billion (about 153 percent of GDP).
About 35 percent of the 2010 budget is dedicated to servicing this debt, which the government has managed to reduce from 180 percent of GDP since 2006, but which still remains high compared with other debt-ridden countries.