Sfeir calls for friendly state-to- state ties with Syria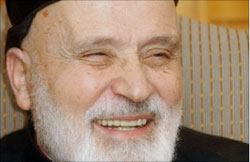 Maronite Patriarch Nasrallah Sfeir stressed Friday at the Hariri International airport following his return from an official visit to France that the relations between Lebanon and Syria should be "peaceful, friendly, and loyal" like those of any neighboring states.
Sfeir however stressed that the "Lebanese-Syrian relations should be those of one state with another," he said.
Commenting on the results of his talks in Paris Sfeir said : "French President Nicolas Sarkozy and other French officials are known for their constant support to Lebanon."
Addressing his recent statements on Hezbollah, he said that there is nothing to clarify, pointing out that the party's existence cannot be denied.
Regarding the rights of Palestinian refugees in Lebanon, the Patriarch stressed: "Those who handled the dialogue have their opinions, but we want every human to be granted his rights."
Asked about naturalizing the Palestinians, Sfeir stated: "Lebanon is a small country and it cannot support more people."
Prior to departing from France Sfeir told As-Sharq radio station that the Lebanese state should have control over the use of arms instead of certain factions, a possible reference to Hezbollah and the armed Palestinian groups in Lebanon.
Hezbollah accuses Sfeir of insulting them
"Maronite Patriarch Nasrallah Boutros Sfeir's term 'so-called Hezbollah' is an insult to the party", said a statement issued by Hezbollah's press office on Friday.
"We do not want to believe that Sfeir intentionally this term ," said the statement, adding, "We might disagree, with the patriarch in politics, but we are keen on respecting each other's religions."
The statement added: "Will the Patriarch be happy if we refer to him as the so called Patriarch"
Sfeir, a proponent of a strong Lebanese state, is one of the most outspoken critics of Hezbollah and those Lebanese leaders who have been visiting Syria to strike their own deals at the expense of the country.