Lebanon president in Damascus for talks with Assad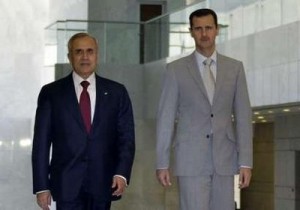 Lebanese President Michel Suleiman arrived in Damascus Tuesday for talks with Syrian President Bashar Assad. He is expected to discuss regional developments as well as the stalled peace process, a Lebanese governmental source said.
The two leaders are also expected to discuss the growing role of Turkey and Iran in the region and the impact this could have on Lebanon, the source said.
Suleiman and Assad will also discuss the 15 agreements that were reached over the weekend during meetings of the Lebanese-Syrian Committee.
The 15 amended agreements are in in the fields of environment, consumer protection, agriculture, tourism, culture, interior, defense, education, economy and technical education .
Health Minister Mohammed Jawad Khalife and State Minister Adnan Qassar accompanied Suleiman on his visit.
The Presidency's Director General Naji Abi Assi and a number of advisers also escorted Suleiman to Damascus.