Khalife: Suleiman invited Assad to Lebanon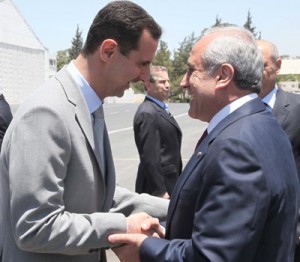 Health Minister Mohammad Jawad Khalifeh praised on Tuesday before the cabinet session President Michel Suleiman's summit with his Syrian counterpart, Bashar al-Assad, describing it as excellent.
Khalifeh, who was also present at the meeting, said it covered, bilateral relations, regional developments as well as the recurrent Israeli threats.
He also said that Suleiman and Assad discussed the 15 agreements that were reached over the weekend during meetings of the Lebanese-Syrian Committee.
The 15 amended agreements are in in the fields of environment, consumer protection, agriculture, tourism, culture, interior, defense, education, economy and technical education .
"Suleiman invited Assad to Lebanon, and Assad promised to visit Beirut as soon as possible," Khalifeh was quoted as saying.
Suleiman met Assad at the People's Palace in Damascus.
According to a statement issued after their meeting both leaders agreed to "strengthen bilateral ties and remove anything that might hinder the evolution of these relations".
The statement added " both leaders expressed satisfaction with the work of the joint preparatory committees and have agreed to direct the committees to study the territorial water rights of the two countries and the collection of information and data required to start the process of border demarcation soon (taking into consideration the brotherly relations that link Lebanon and Syria.)
The statement also said: "The two sides discussed the upcoming meeting of the Syrian-Lebanese Supreme Council which is scheduled to discuss various aspects of bilateral relations and ways of boosting these relations".
Many in Lebanon are opposed to the continued presence of the Syrian-Lebanese Supreme Council ever since both countries established diplomatic relations.