March 14 candidiate wins Minieh-Donniyeh parliamentary by-elections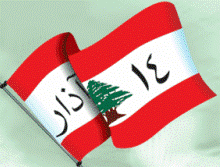 National News Agency (NNA) reported on Sunday that based on initial results Kazem al-Kheir won the Minieh-Donniyeh parliamentary by-elections with a total of 11,200 votes. His opponent, Kamal al-Kheir, received a total of 7,809 votes.
Kazem ( son of former MP Saleh Kheir) is the candidate of March 14 Future Movement which is headed by PM Saad Hariri, while Kamal is the candidate of March 8.
The Minieh-Donniyeh ( north Lebanon ) parliamentary by-elections took place to fill the seat left vacant by the April death of Future MP Hashem Alameddine.
The voter turnout rose gradually during the day to reach 33 percent by the time polling stations closed.
"Winning this battle holds political indications," Minieh-Donniyeh MP and Future Movement official Ahmad Fatfat said earlier Sunday.
Kamal Kheir has repeatedly expressed pride in his political alliance with Hezbollah but admitted on Sunday that Hezbollah is very weak in his district.