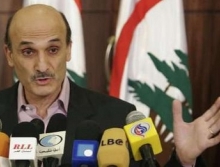 The Lebanese Forces issued a statement on Friday slamming Marada Movement leader MP Sleiman Franjieh over his remarks to As-Safir newspaper which were published Friday.
Franjieh told As-Safir that the LF is being funded to form a militia which according to his opinion will be capable of igniting a civil strife."
"The real financial support is that received by Franjieh and his local allies from Syria and Iran, not to mention that Franjieh is the last one entitled to question the LF about the sources of its financial support, given that he is still blackmailing the Shekka plants up till now," the statement added.
"As to the LF, everyone knows that its financial resources are the subscriptions of its members, especially those in diasporas, in addition to the series of activities it conducts throughout the year to collect donations, "the statement added.
The statement went on to say that "the real militias and gangs are those who lit up the sky of Zghorta and the North with their medium and heavy weapons on the eve of appointing Franjieh as an interior minister on October 26, 2004, leading to the wounding of a number of citizens."
"The real militias and bandits are those who threatened civil peace and tried to ignite strife and troubles through blocking the roads of the North and the rest of Lebanese areas on January 23, 2007, opening fire on citizens and killing Riad Abi Khattar in Batroun in addition to wounding a number of citizens. The militias of civil strife are those who invaded Beirut and Mount Lebanon on May 7 (2008) , " the statement added in reference to Hezbollah which is allied with Franjieh
The LF also slammed Franjieh, saying that he allied himself with Free Patriotic Movement leader MP Michel Aoun after he had previously accused him of failure and of being an Israeli agent.
Tension between the two sides increased after last month's killing of two brothers, Tony and Nayyef Saleh, in the northern village of Dahr al-Ain by alleged LF supporter Hanna al-Barsaoui. The two victims were affiliated with the Marada Movement.
Reacting to the killing, Franjieh called LF leader Samir Geagea a criminal. The latter said his party will no longer accept offensive statements from Franjieh.