Hezbollah MP: Lebanon is the 'biggest loser' in Iran vote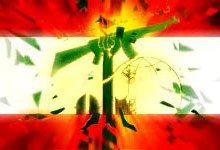 Hezbollah MP Hassan Fadlallah told LBC TV on Friday that Lebanon is the "biggest loser" at the  recent meeting of the UN Security Council to vote on a fourth round of anti-Iran sanctions.
Fadlallah said Lebanon should have voted against the sanctions to prove its independence.
Resolution 1929
The UN Security Council on Wednesday passed Resolution 1929, which aims to persuade Tehran to curb its suspect nuclear program by widening military and financial sanctions. The Resolution passed 12- 2. Lebanon abstained from the vote, while Turkey and Brazil voted against it.
Yesterday Hezbollah and Amal movement condemned the government's decision to abstain from voting at the U.N. Security Council against sanctions on Iran, hoping that the Lebanese showed more unity.
Describing the resolution as "unjust," Hezbollah hailed the "fair stance of Turkey and Brazil."
Fadlallah said Beirut proved that it cannot find its place among the great nations of the world.
Claiming that Iran faced the sanctions because it supported Lebanon against Israel, the lawmaker said Beirut had 'withheld its gratitude toward Tehran.'
According to observers, Iran never supported the state of Lebanon…Iran always supported Hezbollah and always made sure it operated as a state within the state of Lebanon.
One observer commented on Fadlallah's statement by telling Ya Libnan: " What kind of gratitude Fadlallah expects Lebanon to show towards Iran ? Gratitude for hijacking the state of Lebanon by Hezbollah ? "