Lebanon PM met with Mubarak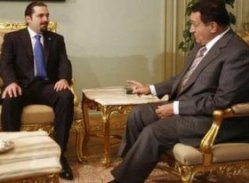 Lebanese PM Saad Hariri discussed on Wednesday bilateral ties and latest developments with Egyptian President Hosni Mubarak in Sharm el-Sheikh, Egypt .
The National News Agency said the meeting took place at 10:00 am at the Red Seat resort.
Hariri informed Mubarak about the results of his latest visit to the U.S., NNA said.
The prime minister later returned to Beirut
On Tuesday, the Lebanese premier met with Jordan's King Abdullah II in Amman and Saudi King Abdullah in Riyadh.
On Thursday Hariri will conclude his mid East tour with a visit to Turkey