Berri opposes sanctions against Iran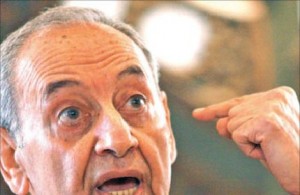 Lebanese Speaker Nabih Berri told the press on Wednesday :
"We should be at the highest level of coordination with Turkey. In all cases, I am against the decision to impose sanctions on Iran ."
Berri, a key ally of the Iranian backed Hezbollah  party added that Lebanon would essentially be supporting Israel if it does not, at the very least, take Turkey's side when it comes to UN Security Council sanctions against Iran.
Berri was referring to the nuclear fuel swap deal struck between Turkey, Brazil and Iran last month in order to avoid the sanctions.
The Security Council is expected vote on Wednesday on the new sanctions on Iran. 12 out of 15 members are expected to vote in favor of the sanctions. Brazil, Lebanon and Turkey are expected to abstain