Hearing Helen
"We need to be able to ask people what they mean when something like this comes up," says Alicia Nails, a journalism instructor at Wayne State University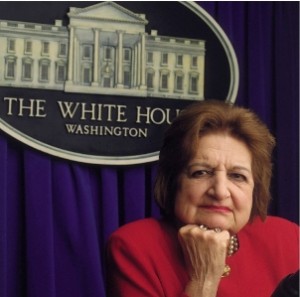 By: Darrell Dawsey
As a former journalism student at Wayne State University, located a few miles outside of the city's downtown, I've seen and heard of a lot of talented writers and reporters who've walked those halls as students. But as great as many of them have gone on to be, no journalism alumnus at my alma mater has been more heralded than the now-embattled Helen Thomas.
Each year, in fact, the school hosts the Helen Thomas "Spirit of Diversity" Awards and Reception, usually drawing some of the biggest names in the news business, both locally and nationally. The program honors the achievements of media trailblazers whose work reflects the spirit of diversity.
All in the name of Thomas, WSU Class of '42, who ended her legendary career yesterday in the wake of backlash created by her comments during an interview with a rabbi, comments where she urged Jews to "get the hell out of Palestine" and suggested they "go home" to Poland, Germany, America "and everywhere else."
"I think her comments represent the vilest form of blatant anti-Semitism," said Richard Nodel, president of the Jewish Community Relations Council of Metro Detroit. "Did she mean we should go back to the gas chambers? The concentrations camps of Germany and Poland?"
But that's just it, says a friend in the WSU journalism department whom I talked to earlier today about the controversy: Instead of simply condemning Thomas' remarks, perhaps we should take a closer listen to what she was trying to say, even if, in her outrage, you think she said it poorly.
"We need to be able to ask people what they mean when something like this comes up," says Alicia Nails, a journalism instructor at WSU and director of the school's Journalism Institute for Media Diversity."I think that (the situation) show our inability to have a conversation when we're confused or when we're offended. Black people, we do this all the time, too. First thing we want to do is have somebody fired. That's ridiculous. There's this sense of 'swift justice' and then it's over and done with. A lot of heat — but no light."
Alicia, who teaches a course on race, class and gender in journalism, says she fears that larger issues fueling Thomas' outburst — on-going strife in the Middle East and social conditions in Israel — will go unexamined in the rush to condemn the journalist.
Still, I ask Alicia straight out whether she thinks Thomas' remarks — for which Thomas herself has apologized — were anti-Semitic. "I don't think it matters whether I think it's anti-Semitic or not," she says. "I'm not in a position to make that call, to tell someone that they shouldn't be offended. I teach that in my class. I can't tell you whether getting slapped hurt you or not."
She notes how black folks hate to be told what we should and shouldn't find offensive and says everyone else is equally as entitled to their own assessments. Still, she doubts that Thomas was making references to the horrors of World War II when she mentioned going "home" to Germany and Poland, noting that Thomas also mentioned the U.S.
Rather, she thinks Thomas was speaking from the context of another type of history — her own. Thomas is the daughter of Lebanese immigrants who brought her to Detroit when she was a child. From her POV, Israel is occupied land. And even brief conversations with many in metro Detroit's vibrant Arab-American community tell you Helen Thomas is not alone in this belief.
"In my class on reporting on race, gender and culture, we might have an Arab-American group in; we might have a Jewish group in," says Alicia. "They have completely different perspectives on what moment in time ownership of that land should be considered. It is no surprise that Helen Thomas, an Arab-American, would view the situation from the perspective of her people."
I've read some strong condemnations of Thomas over the past day and some classy attempts to forgive her. But one of the very few defenses of her that I've seen goes to the same point that Alicia was trying to make during our conversation: That Thomas' comments were drawn from her personal concerns about the policies and politics of the Middle East, not to play on race-hatred or the Holocaust.
To liken Helen Thomas' comments about Israel's occupation of the Gaza strip, to comments telling African-Americans to "go back to Africa," demonstrates a terrible misunderstanding of the plight of both the occupied Palestinians and the kidnapped African-Americans. A more apt comparison may be to telling Americans to get out of Iraq, a land they occupied, battered, and controlled because of a manufactured threat.
And…
Realize that what Helen was recommending was that the occupiers return to their country of origin. Helen Thomas is making a statement against a nations foreign policy, not against individuals because of their ethnic group or race. Helen Thomas was not being anti-Semitic or racist.
A lot of people think it was well past time for Helen Thomas to retire anyway, believing she'd become shrill and over-the-top. There's truth there, although, personally, I always admired the bulk of her career and her willingness to ask the tough questions — especially among a White House press corps that often places decorum above real journalism. Her voice will always be appreciated.
Too bad that it went out on such a sour note.