Electricity cuts for Lebanese who don't pay bills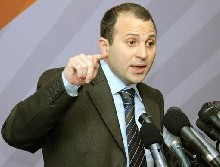 Energy Minister Gebran Bassil's press office announced Wednesday that Electricite du Liban has started on Tuesday cutting the power supply to citizens, including politicians, whose dues have exceeded five million Lebanese pounds. The aim is to treat all Lebanese equally, and help Lebanon recover its debt.
It added in a statement that the upcoming step will entail persecuting citizens who have accrued in excess of one million Lebanon pounds in unpaid electricity bills, which will then be followed with the persecution of all other individuals with unpaid dues.
It stressed that the minister will follow up closely on the procedures in this matter and any employees who do not fulfill their duty will be persecuted.
It said: "The aim of this operation is to pay the institution and state what they are owed and therefore increase the institution's income, close its debt, and treat all Lebanese equally so that the law will be implemented without discriminating against anyone."
"It is the duty of any official to set an example to the citizens in this regard," it concluded.
Naharnet