Amid divisive politics, football unites Lebanon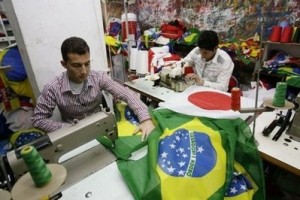 The usually sleepy Lebanese mountain village of Bteghrine is bubbling with flag-fluttering football fever ahead of South Africa 2010, a welcome escape from often bitter local politics.
And the national colors of Brazil and Germany — rather than those of rival political camps in a country historically marred by internecine warfare — are everywhere in this village northeast of Beirut.
Bteghrine residents are divided between supporters of Germany and loyalists of Brazil, Lebanon's two all-time favorites. Italy and Spain come next in the hearts of the Lebanese, followed by Argentina and Holland.
"This entire neighborhood is with Germany," said fan Elie Saliba, 24, who has draped a black-red-yellow flag 10 meters long (33 feet) and two feet wide across the front of his family home.
Saliba and his friends have been cruising the streets of the town for weeks in horn-tooting convoys — flags fluttering from car windows — to demonstrate their support for Germany.
Similar scenes can be seen across the capital as well as other towns and villages throughout the country where everything from stickers, shoe laces, cell pone cases, key chains, mugs, T-shirts and other football memorabilia are selling like hotcakes.
"Enthusiasm is rife. It's everywhere and football is much better than politics," said Saliba, adding that he had not hesitated a moment to fork out 100 dollars (80 euros) for the flag.
Saliba, who manages a family supermarket, is as proud of his huge Germany flag as Brazil fan Michel el-Murr is of his team.
Murr agrees that cheering for your team is far more rewarding than being drawn into the chaotic politics of Lebanon, where sectarian differences have often spilled over into deadly violence and street battles.
"Trouble often breaks out during elections and sometimes friends turn against each other," said Murr.
"But during the World Cup the worst that can happen is who will put up the biggest flag and organize the biggest convoy of cars. And in the end we are still friends," he said.
The World Cup, which kicks off on June 11, has always been an important event for Lebanon — even during the 1975-1990 civil war when militiamen would lay down their weapons to watch the games.
Football fever, however, produced an embarrassing moment for Bteghrine when a Germany fan hoisted the Nazi flag outside his home, saying "he wanted to show that he is as fanatical about Germany as Hitler was," a neighbor said.
The young man eventually removed the offending flag.
Support for Brazil, which hosts the largest Lebanese expatriate community in the world, is easy to explain. "There are eight million Lebanese living in Brazil and only four million Lebanese in Lebanon," said Murr.
Giftshop saleswoman Carla Riashi, 28, is fanatical about Germany. "If Germany loses, I will cheer on Spain," she said, defiantly.
"The bottom line is that I am against Brazil," added Riashi, who lives in nearby Bikfaya, hometown of the Gemayel family, a political dynasty which founded the far-right Christian party, the Kataeb (Phalangists).
The party was formed by the late Pierre Gemayel, a pharmacist by training and prominent athlete who led the national team to the 1936 Olympics in Berlin.
Gemayel was impressed by the formidable organization of the Nazi party and a year later formed the Kataeb party, which has influenced Lebanese politics for decades.
In Ouzai, a Beirut stronghold of Hezbollah, a factory has been churning out World Cup flags round-the-clock, some custom-made to meet the whims of clients, including a 120-meter-long Brazil flag.
Work started in earnest at the Sharara flag factory "four months ago," said Dalal Mughniyeh, better known by staff and clients as Omm Hadi, who runs the business with family members.
According to her, there is greater demand for World Cup flags than there has been for political flags for this month's local elections across Lebanon.
The Stars and Stripes counts among the 10,000 flags stitched daily at the Sharara factory, even though owner Omm Hadi is a staunch supporter of Hizbullah.
On the entertainment scene, Lebanese pop sensation Nancy Ajram stars in a dance-filled Arabic-English video promoting a soft drinks giant, singing a remix of "Wavin' Flag" by Somali-Canadian musician K'naan.
World Cup fever has also been big business for Lebanese shopkeepers and entrepreneurs who have devised all sorts of events to cash in.
While neighborhood shops keep busy selling all sorts of football accessories, a World Cup extravaganza is planned in Beirut's trendy downtown district.
Workers are putting the final touches to a World Cup Fan Park — an outdoor venue with a capacity for 2,500 people where supporters will be able to watch games live on a huge outdoor screen.
Rival fans will also square off in a mini football tournament, in a country where crowds have been banned from professional matches after rivalries escalated into all-out battles.
Naharnet