Williams: Lebanon's Voice to be Heard at U.N.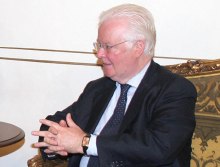 U.N. Special envoy for Lebanon Michael Williams urged all parties to refrain from provocative statements that could lead to regional tension and said PM Saad Hariri's speech in New York on Wednesday would help the international community hear Lebanon's voice.
"I am reassured by the fact, which the General shares with me, that all parties are still committed to the implementation of Security Council Resolution 1701 and to the cessation of hostilities," Williams said Monday following talks with Free Patriotic Movement leader Michel Aoun in Rabiyeh.
"I believe all parties must also refrain from any provocative action or statements that could lead to tension," he added.
Williams unveiled that other than chairing a meeting of the Security Council on Wednesday, Hariri will meet with U.N. Secretary-General Ban Ki-moon.
"These are opportunities for Lebanon to make its voice heard at the international level and to contribute actively to the international efforts for promoting peace and stability in the Middle East and around the world," Williams said.
He lauded Interior Minister Ziad Baroud, the Lebanese army and Internal Security Forces for their handling of the municipal elections.
"The elections are testimony to the Lebanese people and to the way they exercise their democratic rights and I look forward to a successful conclusion of this process next week on Sunday, May 30, in the last round of the elections in the north," the U.N. official said. Naharnet