Hariri meets Ray LaHoud in Washington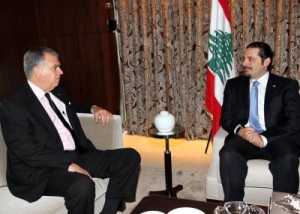 Lebanese Prime Minister Saad Hariri started Monday his official visit to Washington by a meeting with U.S. Secretary of Transport Ray LaHoud at his residence at the Four Seasons hotel in the nation's capital.
Attending the meeting were U.S. Ambassador to Lebanon Michelle Sison, Advisor Mohammed Shatah, and Hariri's advisor for U.S. affairs Amal Mudallaly.
The meeting focused on the bilateral relations between Lebanon and the U.S.
Hariri then visited the International Monetary Fund (IMF) headquarters in Washington DC, where he met with IMF Managing Director, Dominique Strauss-Khan and IMF high officials.
Attending the meeting were, Shakour Shaalan, IMF Executive Director for the Constituency of Lebanon and neighboring countries, Lebanese Finance Minister Rayya al-Hasan, Lebanese Ambassador to the U.S. Antoine Shedid, advisors Mohammed Shatah, Mazen Hanna and Amal Mudallali.
After the meeting, Hariri said: "What is comforting about this meeting is that the IMF considers Lebanon as being one of the most advanced countries in the Mediterranean at the economic level at a time when many other economies are facing difficulties."
"As they said, Lebanon is envied by other countries since it achieved growth. We discussed this issue and the financial policy of the country. They expressed their support for our measures and hoped that the draft 2010 budget will be ratified soon to help the Lebanese economy," he added.
On the other hand, Hariri stressed that his duty "is to safeguard Lebanon and its stability, especially since the region went through many wars."
"I must protect my people in Lebanon. In fact, we want this region to progress on the peace process track, the one that was launched in Madrid in 1991, up until the Arab League initiative in 2002. The region went through a stage of wars; it is high time that peace be achieved," Hariri added.
"The Palestinians must have their independent state with Jerusalem as Capital," Hariri stressed, adding that "only peace and the restitution of rights can yield progress."
Hariri is scheduled to hold talks with U.S. President Barack Obama and other top officials in Washington on Monday.
He arrived in Washington Sunday night, in his first visit to the U.S. as Lebanese premier.
White House spokesman Robert Gibbs said on Friday the two leaders would discuss a "broad range of mutual goals in support of Lebanon's sovereignty and independence, regional peace and security."
Hariri met later former US ambassador to Lebanon and Assistant Secretary of State for Near Eastern Affairs Jeffrey Feltman and an influential US house of representative member Nita Lowey.
He is also scheduled to meet with Vice President Joe Biden, National Security Advisor James Jones, Defense Secretary Robert Gates and U.S. Middle East peace envoy George Mitchell.
US Secretary of State Hillary Clinton is currently out of the country on an Asian tour.
Hariri may also meet with Speaker Nancy Pelosi and other members of Congress before heading to New York to address the U.N. Security Council on Wednesday
The Lebanese embassy in Washington is holding a ceremony in Hariri's honor on Monday night. The prime minister will also make a speech at the Rafik Hariri building of the Robert Emmett McDonough School of Business, at Georgetown University.
The building was opened last September and the Hariri family has contributed $20 million to its construction
Saad Hariri graduated from the university in 1992.
A ministerial delegation comprising Ministers Elias Murr, Ali al-Shami, Rayya al-Hassan, Tareq Mitri, Salim al-Sayegh and Wael Abou Faour is accompanying Hariri.
The prime minister and the delegation will return to Lebanon from New York on May 27. Naharnet