Iran: Proposed new UN nuclear sanctions will backfire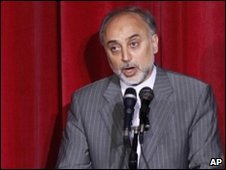 The head of Iran's atomic energy organisation has said newly-proposed sanctions on Iran will backfire.
Ali Akbar Salehi said the sanctions would lead to the major world powers who back them being "discredited".
He is the highest-ranking Iranian official to speak since the proposals were tabled at the United Nations Security Council on Tuesday.
The proposals come just a day after Tehran agreed to trade uranium for ready-enriched fuel for a reactor.
"They won't prevail and by pursuing the passing of a new resolution they are discrediting themselves in public opinion," said Mr Salehi, who is also Iran's vice-presiden.
Plans for a fourth set of UN sanctions against Iran over its nuclear programme were circulated among all 15 members of the Security Council on Tuesday.
US Secretary of State Hillary Clinton said the five veto-wielding permanent members had agreed on a "strong" draft resolution.
Nuclear weapon
The new draft was drawn up a day after Iran, Brazil and Turkey signed a deal in which Iran agreed to send low-enriched uranium to Turkey in return for enriched fuel for a research reactor.
A similar deal was suggested last year by the five permanent members of the Security Council – the US, France, UK, China and Russia – plus Germany, who have been negotiating with Iran over its nuclear programme.
They believe that Iran is trying to obtain a nuclear weapon, which Iran denies.
Placing Iran's nuclear material in a third country was intended to act as a confidence-building measure by the major world powers to prevent Iran producing more highly enriched, weapons-grade material.
Mrs Clinton had dismissed Iran's deal as an attempt to deflect pressure.
The new measures put before the UN foresee cargo ship inspections and new banking controls.
But Mr Salehi said talk of sanctions had "faded".
"This [UN Security Council draft] resolution is the last effort by the West," he told Iran's semi-official news agency, Fars.
"They feel that for the first time in the world developing countries are able to defend their rights in the world arena without resorting to the major powers an that is very hard for them," he said.
Iran is also preparing a letter for the UN atomic watchdog, the International Atomic Energy Agency, officially notifying them of their deal with Turkey, Mr Salehi said. BBC